Working during high school has its benefits
Hang on for a minute...we're trying to find some more stories you might like.
What is it like to have a job in high school? According to Thinkprogress.org about 80% of teens would know. It's not hard to figure that it could be quite stressful, especially while having to worry about homework, studying, and any extracurriculars. It is very easy to fall behind when you have so many things going on. Despite this, working part-time while being a full-time student can also be very educational and rewarding in many ways. 
Most people with this experience would agree that it is hard to balance school and work, but once you find the right balance, it can be quite enjoyable. It can open up many new experiences and opportunities.
Madison Kipp, grade 11, states, "Keeping your grades up while you work after school is tough because you can't go to bed on a regular time schedule." Getting enough sleep and staying caught up in all of your classes can already be tough, so being able to handle a job could be very hard for many students.  This is why finding and maintaining a good balance is important. Having a job can help you with time management skills and prepare you for the future. 
Getting a job has impacted my life way more than I thought it would. Staying caught up with everything was hard at first, and still is for the most part, but it has helped me in many ways, as well. It has helped me step out of my comfort zone and find ways to better myself as a worker and as a person.
Within the past 6 months that I've had my job, I have made many new friendships and I have grown so much mentally. At times it can be extremely frustrating, as it feels like a never-ending cycle of exhaustion and stress, but I always find ways to bounce back from that feeling.
It can be very hard trying to find time to yourself and just relax when you go straight to work after a school day ends, and are also working early mornings on weekends. But, even though it can be quite draining at times, I find it easy to make the most of it. I am always able to have fun while at school and work because I get to be with my friends. 
If not for getting a job, I would not be friends with many of the people that I am friends with now. It has helped me step out of my comfort zone and be more confident when talking to others. Balancing a job and school takes a lot of work but will absolutely pay off in the end.
Veronica Exley, grade 12, states, "If you can keep up with your grades and maintain a good sleeping schedule and do the school work then getting a job would be great for your experience." It can help you learn how to be responsible and show you that hard work and putting forth the effort are rewarding.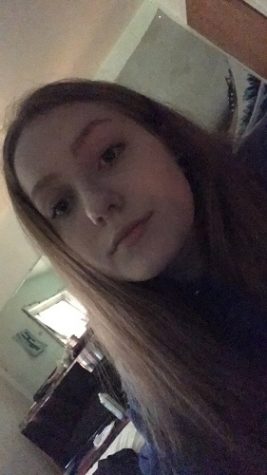 Hannah Rauch, Staff Writer
I love watching movies and painting. Green is my favorite color. Horror movie and orange juice fanatic.