Mrs. Borden's 6th period wins food drive contest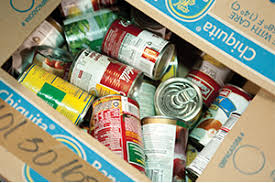 The Food Drive for the Salvation Army took place over Thanksgiving break and lasted until December 7, 2018. The top class receives a pizza party, which is an incentive to encourage the students to donate the most food and compete with the other English classes. Teachers also have incentives in their own classes to make their periods compete against each other. This year, Mrs. Borden's 6th period Junior Public Speaking-Composition class won the pizza party.
All of the food collected this year was donated to the Salvation Army for the local residents to enjoy. The Salvation Army serves nearly 500 people every month. The Salvation Army asked students to donate quick items that are easy to prepare, such as canned and boxed meals, soups, pastas, and much more, in order to help the most amount of people possible. There was a plethora of food collected that filled up the bed and backseat of a pickup truck. Some classes brought in more than 100 items.
Mrs. Moyer, an English and Journalism teacher, states: "The English Department has sponsored the food drive for many years and would like to thank all students and staff who contributed to support our local families in need."