Peak Week challenges swimmers over the holidays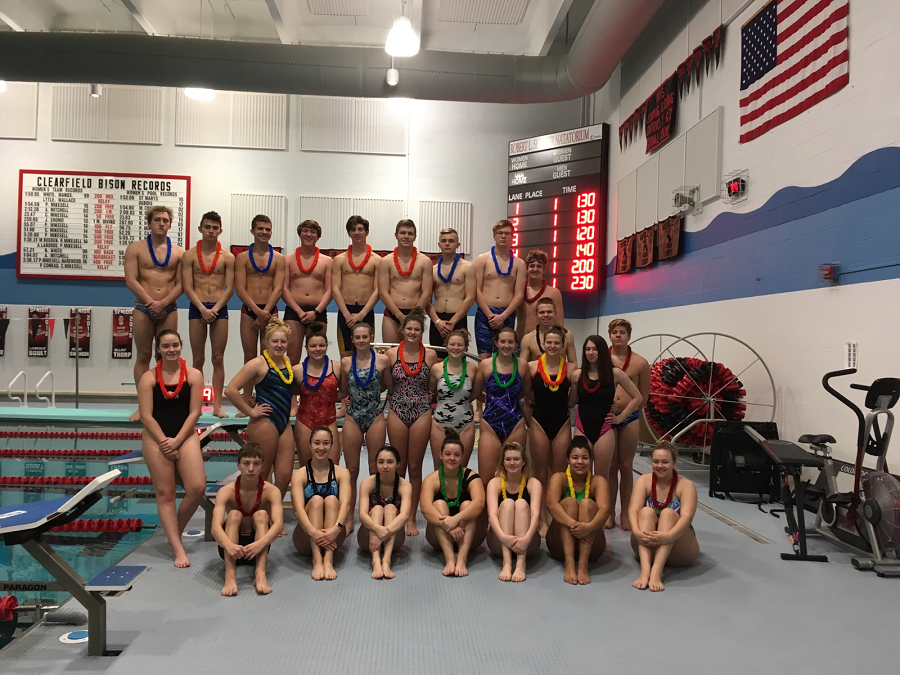 What is Peak Week for the Clearfield Varsity Swim Team? Peak Week is a phase of aerobic training for the varsity swimmers with the sole purpose of muscular endurance and base conditioning. This type of training is crucial in order to be prepared for the rest of the season.
Peak Week consists of swimming 32 to 35 miles for the week. This averages between 55,000 and 60,000 yards over this time period. The variation is due to the different fitness levels of the individuals on the team. The most yards completed in a single practice is on New Year's Eve with the 100 x 100s practice, or 10,000 yards.
Peak Week takes place over the winter holiday break because there is extended time to get the whole workout completed along with free time to nap that is definitely needed.
When asked when Peak Week first started, Jackie Morrison, the head coach, states: "It initially started out as Peak Day back in the early 90's but we extended it to 7 days to include a reward for making all 7 workouts and all the laps in each workout.  The swimmers earn a really cool t-shirt that no one else can have unless they achieved the week's criteria."
The fitness level definitely improves over this time period due to the aerobic and muscular endurance. It mostly makes the swimmers mentally tougher so that they are prepared for the rest of the season and have more confidence in their abilities. This allows them to swim faster times and keep improving.
Justin Maines, a junior on the Varsity Swim Team, states: "Peak Week is the most challenging week of the year for swimmers. Our yardage goes up, the practices get harder, and the times get faster. This makes for a very tough week of swimming, especially because Peak Week takes place over Christmas break. The struggles we overcome throughout Peak Week are what makes our team able to succeed. Not only do we get stronger and faster, we gain an invaluable amount of mental toughness that propels us through the rest of our season."
When asked what else she would like to share with our readers, Coach Mo states: "While this week might seem extreme to some, the swimmers have developed the necessary skills and training to be able to handle this type of work load.  Again, the workouts vary depending on skill level and training.  An inexperienced swimmer will do much less yardage than a state level swimmer.  Workload is adjusted based on ability, experience, and on what the goals are for each and every swimmer."