Tarzan swings onto the Clearfield Area Junior-Senior High School stage
Hang on for a minute...we're trying to find some more stories you might like.
Tarzan is an adventurous musical that takes the audience on a trip into the African jungle to explore jungle life through mystery, comedy, and beauty. This musical is based on the Walt Disney Animation Studios 1999 film and includes all of the Phil Collins music that audiences know and love from the film.
In this musical an orphaned boy Tarzan (Spencer Graham), is taken in and raised by a mother ape, Kala (Makeeli Redden), who has just lost her little ape to Sabor the Leopard (Ally Hertlein). Kala's mate Kerchak (Jace Kephart), however, believes that Tarzan will only bring danger to the family. With the help of his ape mother Kala and his best friend Terk (Remington Shugarts), Tarzan grows into a strong young man.
Suddenly, a new group of humans comes to the jungle for research: Jane Porter (Katelynn Smith), the Professor (Mason Yocum), Clayton (Ryan Lazauskas), and Snipes (Ryan Forcey). Tarzan eventually discovers this new family and sees that they are just like him. With these people, Tarzan begins to learn how to be the human being he really is, but where does Tarzan really belong; in London with Jane and the professor, or in the jungle with Kala, Kerchak, and Terk?
Mr. Switala, the CHS drama club director, says that this show was chosen because it has not been done by any other school in the surrounding area, so it gives students an opportunity to perform something new.
Tarzan is a show involving a lot of exciting scenes with Tarzan swinging from vines and racing over tree branches. Unfortunately, due to the expenses of flying equipment and training from certified companies, no one in the show will really be "flying." However, directors are looking at trampolines, ramps, and rollerblades as other exciting options to make this show come to life.
Although Mr. Switala is very much looking forward to the African-style music involved in this show, he says that he feels it will be the most difficult part about performing this show. "This show is unlike any we have done and bringing the African jungle concept to central PA will be a difficult task.  The percussion and intricate rhythms will be challenging."
Fifty-four students auditioned for this year's spring musical. In fact, many of the students who auditioned this year are completely new to the drama department, and some of these newer students even got leads. Spencer Graham (Tarzan) states, "[I am] really looking forward to it all. I might be new, but I'm definitely giving it all I have!"
Mr. Switala would like to add, "The CHS Drama Club is excited to continue to offer theatrical opportunities for our students.  There will be sign-ups in the near future for other crew opportunities, such as stage ninjas, lighting, and sound crews."
Cast List:
Tarzan – Spencer Graham
Jane – Katelynn Smith
Kerchak – Jace Kephart
Kala – Makeeli Redden
Terk – Remington Shugarts
Porter – Mason Yocum
Clayton – Ryan Lazauskas
Young Tarzan – TBA
Young Terk – TBA
Father – Herschel Johnson
Mother – Shelby Flanagan
Snipes – Ryan Forcey
Leopard/Spider – Ally Hertlein
Dance Captains – Jacquelyn Ammerman, Elise DuFour, Ally Hertlein, Herschel Johnson, Brianna Show, Taylor Trinidad
Gorilla Ensemble – Jaquelyn Ammerman, Kendra Billote, Chloe Brower, Matt Bush, Devan DeSantis, Elise DuFour, Katlyne Fye, Emmalynne Groth, Keagan Hess, Stacey Houchins, Taylor Humenay, Herschel Johnson, Taye Lynch, Emmalee Marshall, Carrie McCracken, Philip Rowles, Lily Rosinsky, Lauren Satteshan, Brianna Shaw, Emily Shipley, Haeley Stott, Isaac Swanson, Taylor Trinidad, Cruz Wright
Expedition Crew Ensemble – Kayliann Bryan, Kelseekay Charles, Erick Conaway, Cameron Conklin, Shelby Flanagan, Mindy Fleming, Madyson Gillen, Chelsea Ippolito, Morgen Johns, Ben Leighow, Jeri Mallon, Jordan Mallon, Jonathan McGee, Austin McDanel, Lennon Miller, Phillip Peters, Anna Rowles, Lindsey Shaw, Angel Swanson, Ethan Yarger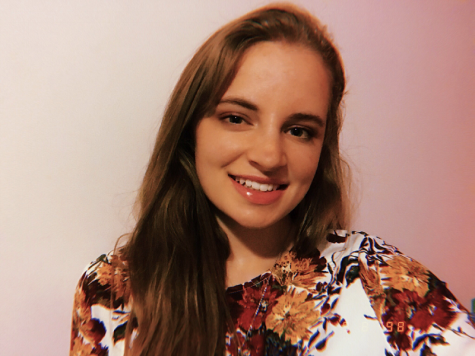 Katelynn Smith, Staff Writer
I am Katelynn Smith, a junior in high school. At home it is just me and my mom and dad. I have three half siblings, two brothers and a sister, who are...