Bocce games begin

On Feb 6. the Clearfield Area Junior-Senior High School Bocce team began their season with the first game at Clearfield. The Bocce team went against Curwensville and ended the game with a close, yet winning score.
The team, coached by Dr. Spaid and Mrs. Plyler, consists of 9 students: Shaylee Sharp, Tyrone White, Tyler O'Shea, Katherine Turner, Spencer Graham, Lily Rosinsky, Cruz Wright, and Kimberly Wilsoncroft, including student coach Thad Butler, who had a bit to say about being a part of the Bocce team. Thad stated that is a was a great experience to be a part of the Bocce team, and that it was a fulfilling fun experience during the first win. Thad also stated that being on the Bocce team gave him a great experience to work on  his leadership skills, as well as being part of a team. During the first game, Thad was able to help, guide, and support the students towards their first win.
The win was close, and had all the students biting their nails to see who would take the win. The Bocce team is excited to continue the season and hopefully keep their championship title. If you wish to come and support the school's Bocce team, the games will be held as follows:
February 19 @ Clearfield
February 21 @ West Branch
March 5. Championships @ Clearfield
About the Writer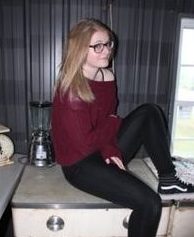 Kimberly Wilsoncroft, Staff Writer

Hello, my name is Kimberly and I am currently a Junior in high school and I love spending my time with those around me, reading, writing, and soaking...