Seniors take honors at annual awards ceremony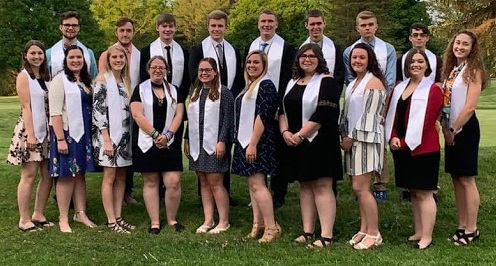 Hang on for a minute...we're trying to find some more stories you might like.
Clearfield Area Junior-Senior High School hosted its annuals Senior Awards Ceremony on May 22 in the school auditorium. Congratulations to the following honorees:
CLEARFIELD FCA SCHOLARSHIP
Abby LaBorde
CLEARFIELD ARTS STUDIO SCHOLARSHIP
Emmalee Marshall, Remington Shugarts
MIKE AUMAN MEMORIAL SOCCER SCHOLARSHIP
Alayna Ryan
JOHN AND MARJORIE FILSINGER MEMORIAL SCHOLARSHIP
Sarah Snyder
PREMIO DE HONOR (Outstanding Senior Spanish Student)
Emmalee Marshall, Ryan Lazauskas 
AP ENGLISH AWARD
Abby LaBorde
CLEARFIELD EDUCATION ASSOCIATION SCHOLARSHIP
Ty Bender, Abby LaBorde, Lauren Sattesahn
GEO/MOSHANNON VALLEY CORRECTIONAL CENTER SCHOLARSHIP
CCCTC Student – Keaton Skutt
Family & Consumer Science – Laney Hudson
Art – Kyler Rosinsky
Physical Education – Abby LaBorde
Tech Education – Noah Johnson
Music – Austin Fontenoy
BRENDA  CLAPSADLE  THORNHILL  MEMORIAL SCHOLARSHIP
Alayna Ryan
THE MARIE SPINGOLA MAINES MEMORIAL SCHOLARSHIP
Kalee Reasinger
FULLINGTON AUTO BUS COMPANY SCHOLARSHIPS IN MEMORY OF MILDRED F. (TILLY) AND J. RICHARD FULLINGTON, SR.
Emmalee Marshall, Jeremiah Vezza
JANET MCCRACKEN HANSARD MEMORIAL SCHOLARSHIP
Thad Butler
JUDD ZIMMER MEMORIAL SCHOLARSHIP
Ryan Forcey
CHARLES VOGELSONG MEMORIAL SCHOLARSHIP
Stacey Houchins
TOM TURNER MEMORIAL SCHOLARSHIP
Caleb Freeland, Seth Mack, Emmalee Marshall
ROBERT LUMADUE SCHOLARSHIP
Kaitlyn Fye
FRATERNAL ORDER OF THE EAGLES SCHOLARSHIP
Stacey Houchins, Abby LaBorde, Seth Mack
BROOKE YEAGER MEMORIAL SCHOLARSHIP
Eli Glass
WILLIAM GARMAN MEMORIAL SCHOLARSHIP
Eli Glass 
CLEARFIELD VFW POST 1785 YOUNG AMERICAN PATRIOTIC ART CONTEST
Madison Oswalt, Lindsay Shaw
CLEARFIELD AREA HIGH SCHOOL CLASS OF 1962 SCHOLARSHIP
Ryan Forcey
STEVEN C. PENNINGTON MEMORIAL SCHOLARSHIP
Thad Butler
ELKS NURSING SCHOLARSHIP
Kalee Reasinger
MARK  MORGAN  MEMORIAL SCHOLARSHIP
Eli Glass
HELMBOLD & STEWART BUSINESS SCHOLARSHIP
Ashley Struble
CLEARFIELD  ROTARY  CLUB SCHOLARSHIP
Emmalee Marshall
LEANNA MARIE SHUGARTS MEMORIAL SOCCER SCHOLARSHIP
Jessica Mulhollan, Alayna Ryan, Sarah Snyder
LIONS CLUB OF CLEARFIELD SCHOLARSHIP
Stacey Houchins
CLEARFIELD BUSINESS AND PROFESSIONAL WOMEN'S CLUB SCHOLARSHIP
Stacey Houchins
WOMEN'S CLUB OF CLEARFIELD SCHOLARSHIP
Stacey Houchins
SONS AND DAUGHTERS OF ITALY ALEX VEZZA MEMORIAL SCHOLARSHIP
Jeremiah Vezza
CLEARFIELD BISON ALUMNI SCHOLARSHIP
Seth Mack, Kalee Reasinger, Elliot Thorp
JUDY ROSENTHAL MEMORIAL SCHOLARSHIP
Stacey Houchins
KENNETH  MCMILLEN SCHOLARSHIP
Makeeli Redden
DEKALB AWARD SPONSORED BY SANKEYCREST FARMS
Haley Owens
FRED DIEHL MEMORIAL SCHOLARSHIP: NATIONAL TURKEY FEDERATION
Jeremiah Vezza
LEVI AND CARLA ROWLES MEMORIAL SCHOLARSHIP
Sarah Snyder
ELK HOSE CO. ALUMNI SCHOLARSHIP
Emmalee Marshall
THE CUNNINGHAM SCHOLARSHIP
Ally Hertlein, Elliot Thorp
CLEARFIELD  EDUCATION  SUPPORT  PROFESSIONALS  ASSOCIATION
SCHOLARSHIP
Taylor Welker 
GERALD READ MEMORIAL SCHOLARSHIP 
Jeremiah Vezza
CLEARFIELD AREA HIGH SCHOOL CLASS OF 1975 SCHOLARSHIP
Noah Johnson, Madyson Thompson
CLEARFIELD NURSES ALUMNI AND DONNA WESTOVER WAGNER SCHOLARSHIP
Kalee Reasinger
CNB SCHOLARSHIP
Abby LaBorde 
EDITH BROWN HASTINGS NURSING SCHOLARSHIP 
Kalee Reasinger
THE DAVE AND HOLLY WOODEL ASPIRING STRENGTHS SCHOLARSHIP
Abby LaBorde
MARSHA NOVEY SWIMMING SCHOLARSHIP
Makeeli Redden
THE CHERYL ANN RUSSELL MEMORIAL SCHOLARSHIP
Adara Passmore
RECOGNITION OF STUDENTS IN THE ASSOCIATES DEGREE PROGRAM
Thad Butler, Jessica Mulhollan, Sarah Snyder, Ashley Struble, Dylan Thompson, Taylor Welker 
CLASS OF 2019 CITZENSHIP AWARDS
Ty Bender, Chloe Brower, Chris Fenton, Ally Hertlein, Laney Hudson, Jace Kephart, Abby LaBorde, Emmalee Marshall, Makeeli Redden, Brianna Shaw, Logan Stover, Elliot Thorp
CLASS OF 2019 SUMMA CUM LAUDE- GPA OF 98% -AND  ABOVE
Ty Bender, Thad Butler, Dylan Carfley, Austin Fontenoy, Katlyne F,ye, Stacey Houchins, Laney Hudson, Hershchel Johnson, Abby LaBorde, Ryan Lazauskas, Ryan Lutz, Zoe Poole, Lauren Sattesahn, Alexandra Schultz, Sarah Snyder, Haeley Stott, Ashley Struble, Elliot Thorp
THE STELLA  JEDRZIEWSKJ  WAWRYNOVIC SCHOLARSHIPS
Technology Scholarships – Laney Hudson, Dylan Carfley
Valedictorian Scholarship – Abby LaBorde
Salutatorian Scholarship – Elliot Thorp 
THE CHERYL ANN RUSSELL MEMORIAL SCHOLARSHIP
Adara Passmore
RECOGNITION OF STUDENTS IN THE ASSOCIATES DEGREE PROGRAM
Thad Butler, Jessica Mulhollan, Sarah Snyder, Ashley Struble, Dylan Thompson, Taylor Welker