Behind the scenes: Homecoming 2019
Being on homecoming court in high school is a once-in-a-lifetime experience. This year, I was blessed enough that my class voted me onto homecoming court, along with eight other incredible girls I have grown up with. Since I am in Journalism class, I thought, what better to do than a behind-the-scenes experience of what those on homecoming court do in preparation for the big night?
The day that you find out you are on homecoming court is when the chaos starts. We were all called to a meeting with Mrs. Prestash and Mrs. Borden in the office to discuss the rules and standards expected of us to be on homecoming court. We had to uphold these standards throughout the week and a half of waiting in order to maintain our spots. All the girls had to fully participate in Spirit Week, attend every meeting and planned practice, respect school rules/show school pride, and many other things of that nature. We also had less than ten days to find the perfect dress to wear on Homecoming night.
Next, we began attending homecoming practices. We practiced with the cheerleaders one night and then practiced with the band another day, as well. It was very fun, but we had to take it seriously so that we did not mess up.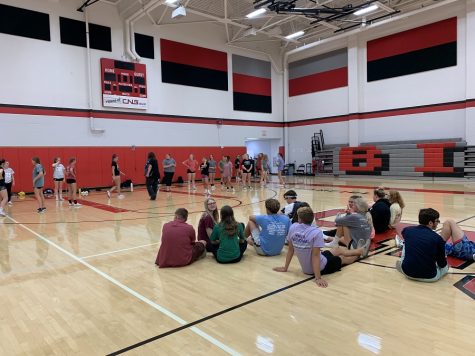 After that, the many, many photos began. The Homecoming court along with their escorts all had to take individual and group photos that would be put on a slideshow during the pep rally. The photo below is my favorite group photo of all of us that we got.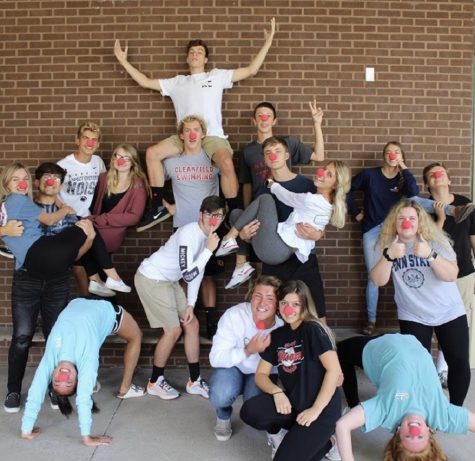 Next came Spirit Week. The whole court dressed up the entire week and went all-out for each day. I think when I say that the last day of Spirit Week was sentimental, I am speaking for Homecoming court and most students in the senior class. This was probably our last day ever of dressing up for Spirit Week, so we all made the most of it. Homecoming court got to wear their court shirts and sashes.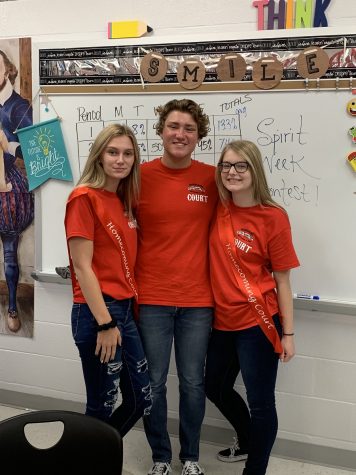 Finally, it was time for the Pep Rally. The whole Pep Rally went well, and Homecoming court was introduced. We played the scavenger hunt game, and Madilyn Domico and Andrew Lopez won. At 2:40, Homecoming court was excused from the Pep Rally and we began getting ready. We had to be at Moena's to eat at 4:45, leaving all of us with less than two hours to get ready. We were very rushed and finished getting ready extremely last minute, but we made it to Moena's all on time and ready to eat. We posed for a few photos before heading inside to eat.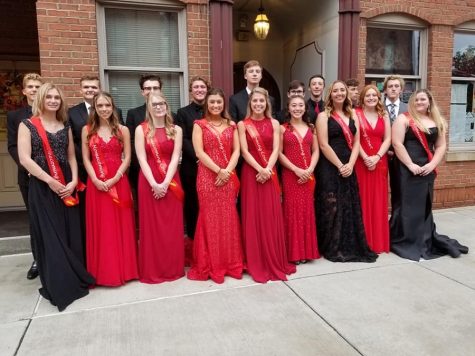 After we ate, we headed over to the park so the photographer could snap some pictures of all of us. I do not have any of the pictures that she took, but I do have a group selfie that all of the court took together.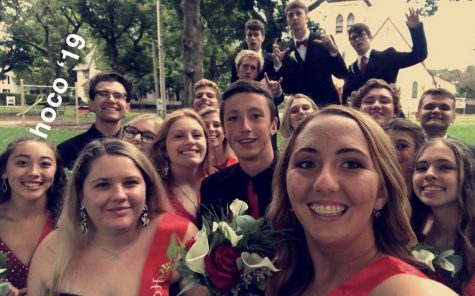 The next couple hours were a blur for all of us. The next thing we knew, we were all out on the field being announced. Bella Spingola was second-runner up, Avry Grumblatt was first-runner up, and then came time to announce the queen. I cannot even lie when I say that I cried happy tears when Kimberly Wilsoncroft was announced for 2019 Homecoming Queen. Kimberly has one of my best friends, and she deserved it so much. Everyone deserved to win the crown that was on the court, though. I have grown up with every single girl on the court, and they are all compassionate, goal-oriented, motivated girls.
Being on homecoming court is a great experience to have in high school. But you do not have to be on homecoming court to necessarily do all the things that the homecoming court did. Student Council officers were right there with us the whole time. Get involved in school spirit. Participate in volunteer clubs and participate in Spirit Week, because before you know it, it will be senior year.