Bison Band performs at Band-O-Rama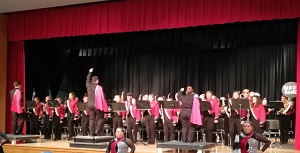 On Thursday, Nov. 14, the Clearfield Bison Marching Band performed its annual Band-O-Rama show in the CAJSHS auditorium. Leading the show were drum majors Shelby Flanagan, Philip Rowles, and Cruz Wright.
They performed music such as Hail Purdue, the school's Alma Mater, and more from their pre-game show as well as two pieces from their parade season. Other music they performed consisted of their halftime show with selections from Les Miserables, which includes Work Song/At the End of the Day, The Attack on Rue Plumet, and One Day More. They also included some of their favorite stands tunes that they play every Friday night.
Mr. Mandell adds, "It was as enjoyable as ever." The audience attendance for the event could be compared to previous years, with about 100 people attending.