Christina McGinnis attends States for golf
Christina McGinnis attended golf States on Oct. 19, 2020 which was held at the Heritage Hills Golf Resort in York, PA. This was her first time attending States for golf, where she competed against 23 other girls.
Personally, Christina does not think she played well during her State match. She describes how she was a little bit disappointed after putting in countless hours of practice. This show how golf goes at times. At the same time, she explains that playing at the State level of competition was a very good experience for herself. She used that match as a learning experience and could not have been happier to have that opportunity. This was one of her top goals from when she started to play golf. Christina also says, "I also am very grateful for my family, friends, coaches, and teachers who supported me along the way!"
This course has a total of 18 challenging holes. Christina explains that this course was much different than any other course she has ever played on before. She adds that the greens were much bigger than she was used to and there were a lot of other obstacles that had to be strategically played around throughout the course. Overall, Christina implies that it was more unfamiliar than challenging.
A women's golfer usually made it to States by placing high enough at the regional match to move onto State. This year, the top three places that were under a score of 100 at the district match got to compete at the state level, due to COVID-19.
Christina prepared for this match by setting a high standard for herself and having something to work towards. Every practice depended on what she felt like she needed to improve on. Some practices were designed for different kinds of shots like short game, irons, or tee shots. Coach Palumbo helped Christina perfect her swing and improve her game by spending a lot of time on the course along with putting in many hours outside of regular practices.
Christina has been playing golf for 5 years. She started playing golf during the summer of her eighth grade year, but she started to take it more seriously during her freshman year of high school. This season was her best season out of all four years on the golf team. During this season, Christina was able to improve her game dramatically and reached her goal of becoming a District IX champion. After she graduates high school, she plans to attend college majoring in Biology. She then wants to move onto veterinarian school. Christina hopes to be able to play golf somewhere in college, but she is still considering her options.
Christina follows up with PGA and LPGA through their season which motivates her the most. Christina explains that she likes to watch them because they too have bad shots even at their level. She also states that the most important thing is not letting the bad shots affect the rest of her rounds. Another thing that keeps Christina motivated is seeing her own score drop. She realized that her hard work started to pay off which helped her continue to improve her game.
About the Writer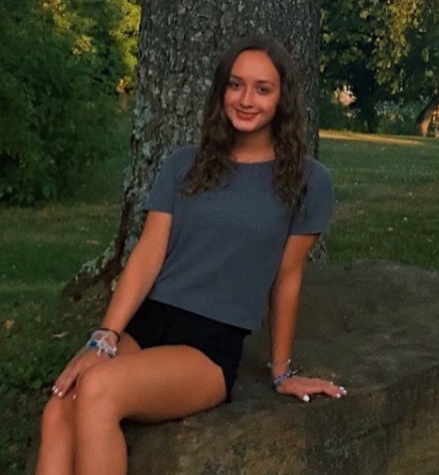 Hannah Salvatore Trinidad, Staff Writer
Hi, my name is Hannah Salvatore Trinidad. I am currently a junior at the Clearfield Area High School. My extracurricular activities include cheerleading...