Characters of Clearfield: Farhan Mahmud Shares his Story of Being an Exchange Student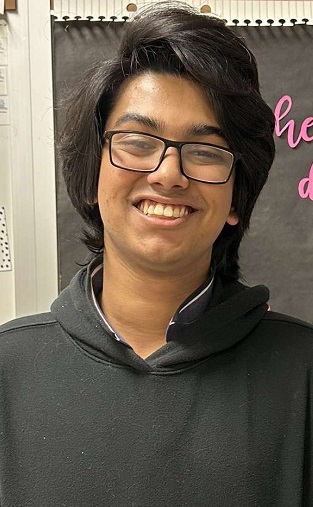 Farhan Mahmud is currently an exchange student from Bangladesh, studying here at Clearfield Area Jr./Sr. High school. His life has changed in about every way during this experience, he explained: "I did not have any pets back home, now I have six. I didn't have another home apart from my own, now I have that too in a different country. The school, the people, and the things I used to do there and what I am doing here are completely different. Even being a part of sports, theater, and the music department here is something that I will miss when I go back." With change can come challenges. Farhan shared that the most challenging thing to adapt to when coming here would be the Pennsylvania winter, it does not get below 50-55 degrees where he is from.
Farhan is currently an ambassador for his country, Bangladesh. Sharing interesting aspects of his culture, he states that he believes the most intriguing part of it all is the food, language, clothes, and diversity. He states, "It is interesting how the people are interdependent or correlated to one another." When asked what he believed to be the most misunderstood part of his culture, he responded, "That we are a poor country, which is not the case even if we are not the richest country. We are doing decent enough with our GDP and all. We are rich in our culture and diversity. Another thing would be that people think we cannot speak English, when in fact we can."
Clearfield Area Jr./Sr. High School has started getting more and more exchange students over the years, along with others across the country. Farhan's advice to those considering being an exchange student would be to be open-minded. He relays, "Have control over your expectations. It will be wrong if I say don't have any expectations, because we are humans and to have expectation is human, but having control over your expectations is something you should have. Also, be communicative, more like a social butterfly."
Farhan Mahmud only has a total of ten months being an exchange student. He says that is what helps him try to not miss home. However, when he does, he says the food and the people are what he misses the most.
His biggest goal in life is to just follow his dreams. Farhan explains, "I don't want to have any regrets. I will try my best to achieve something but if I don't get what I want, I will still be able to tell myself that I tried." For him, the thing that he is most passionate about is the things that he loves and following his dreams. His motivation is what drives him. He states, "Honestly, a lot of things motivates me, people that I come across in my day-to-day life being one of them. However, I would say the urge to achieve something, or to complete something, is my biggest motivation."
Farhan wanted to leave readers with a lasting thought: "Everyone has potential in something, some people find it sooner than others, and I believe everyone is gifted with a unique quality; they just need to explore themselves to find the answer. Follow your dream, it will make you happy. Be nice to others, be humble, and it doesn't take a lot to be nice to others."