Characters of Clearfield: Natalie Rowles Shares What it is Like Being a Freshman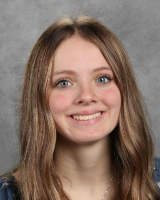 "Worry about yourself, not others," Natalie Rowles, a freshman at Clearfield Area Jr./Sr. High School advises incoming freshmen. For most, freshmen year of high school can be scary. The start of new uncertainties and fresh beginnings can cause many to dread that stage in life. Natalie's advice for incoming freshmen explains that one misconception is having to be good at everything on the first try, which is simply unrealistic, and not to be afraid to try new things.
Natalie has ambitious goals. One of the biggest goals of her high school career is to graduate near the top of her class, as well as make an impact in the school's community. Natalie currently participates in volleyball, cheerleading, softball, and the yearbook club.
When asked what shaped her the most in life thus far, she gives credit to her supportive family. While this is just the beginning of her high school career, she already has a plan for the future. Natalie states, "In four years I hope to be in college, working towards a medical degree." She also has already begun achieving some of her high school goals. One in particular that she is most proud of was receiving a Varsity letter in her freshman year for volleyball. With ambitious goals, comes the need for motivation. The thing that motivates her through this stage of life is having fun, she explained.
It is clear that Natalie is unique in many ways. In her free time, Natalie likes to do crafts, hang out with her friends, and watch her favorite TV shows. When asked what she thinks makes her unique, she states, "How passionate I am about Penn State volleyball." Natalie also shared that she will also be one of the lucky few that will be attending the Taylor Swift concert on June 17th.
To incoming freshmen that may be worried at the beginning of high school, take Natalie's story and advice into consideration. Be yourself, try new things, and do not be afraid of new beginnings. Freshman year can be promising.