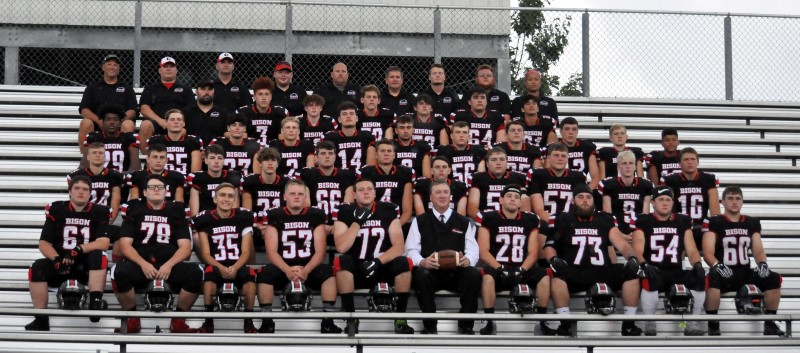 www.clearfieldfootball.org
The Clearfield Bison Football season has concluded after a span of 12 games, including two playoff games. The team closed the regular season with two losses, against Bellefonte and Bald Eagle respectively. They then entered the playoff pool as the number two seed in the District 6-9 bracket. The winner of the district would be rewarded a trip to the PIAA 4A State Playoffs.
The first game, against the Juniata Indians, was held at the Bison Sports Complex. The Bison routed the Indians as they took a 35-0 third quarter lead to activate the mercy rule (running clock). Juniata was able to score a touchdown in the 4th quarter, but ultimately fell to the Bison 35-7.
Clearfield then moved on to the second round of the playoffs, which was also the District 6-9 Championship. They faced the number 1 seed Bellefonte Red Raiders, who were coming off of a first-round bye week. The game was held at Bald Eagle High's  football stadium.
After scoring twice in the first quarter, Bellefonte shot out to a 21-0 lead early in the second quarter. The Bison rebounded and scored 14 in the second quarter to make the score 21-14 in Bellefonte's favor at the half. Coming out of halftime, the Bison scored on their opening drive to tie the score at 21. The rest of the third quarter remained scoreless, and it wasn't until the 4th that Bellefonte scored 14 unanswered to ultimately win the game.
The Bison finished the season 9-3.
Season Results:
Week 1- Clearfield 31, DuBois 20
Week 2- Clearfield 56, Penns Valley 49
Week 3- Clearfield 24, Central 21
Week 4- Clearfield 28, Huntingdon 16
Week 5- Clearfield 42, Central Mountain 20
Week 6- Bellefonte 28, Clearfield 19
Week 7- Clearfield 28, Tyrone 14
Week 8- Bald Eagle 36, Clearfield 28
Week 9- Clearfield 1, Philipsburg-Osceola 0
Week 10- Clearfield 51, Bishop Carroll 14
Playoff Results:
Round 1- Clearfield 35, Juniata 7
Round 2- Bellefonte 35, Clearfield 21