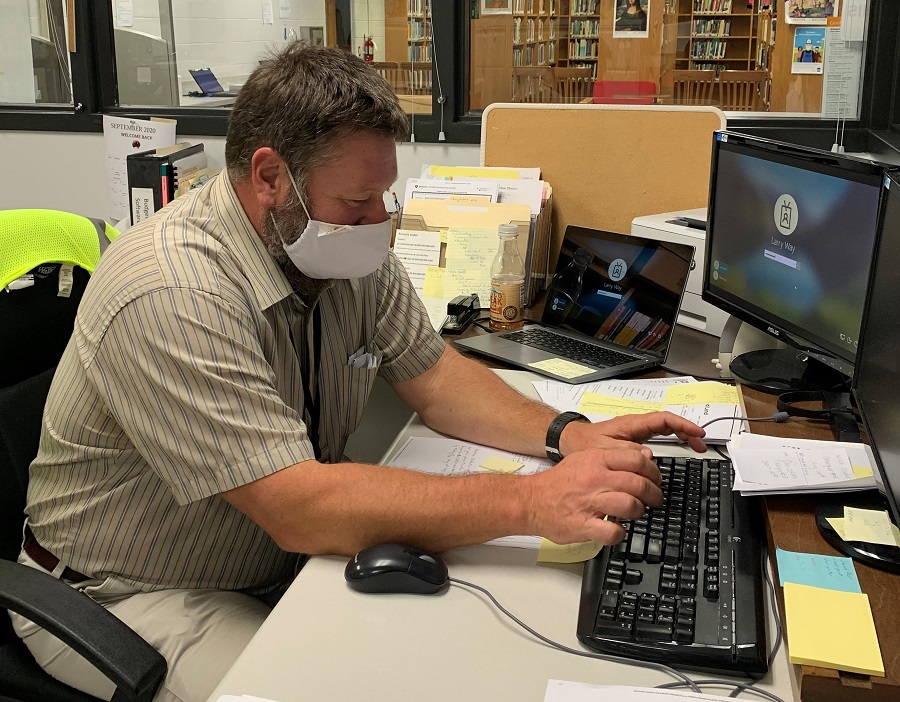 Cassie Eamigh
Our school library is a place where students in all grades can wind down and relax. From studying and doing homework to reading and checking out books, the library has many different services available including printing, laminating, and copying, as well as technology needs like laptop chargers and the ability to look up usernames and reset passwords. The library staff will gladly look at your device and contact our district technology department if needed, according to Mr. Way, librarian.
"The biggest change is not being able to be open before or after school for student needs. We have limited access to the books on shelves, however all new books arriving can be easily accessed.  Books that are returned have a 72-hour quarantine period.  We have rearranged the seating so students are at least 6 feet apart, allowing them to take a 10-minute mask break. There is increased cleaning and disinfecting both during and after school," said Mr. Way.
The school library uses an Online Public Access Catalogue to select books. This is the easiest way to browse our wide selection of books. You may find it listed under quick access links on the Clearfield Area Junior-Senior High School homepage, or use the following link to access the database https://alexhost8.goalexandria.com/7078430. The library is open during the school day for checking out books, according to Mr. Way.