Sandler's new release puts a funny spin on the usual Halloween movie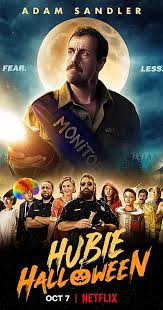 Hubie Halloween was a very much anticipated movie with a star loaded cast of actors that include Adam Sandler, Noah Schnapp, Peyton List, Karan Barr, Kevin James, and many others. It is a classic Adam Sandler type movie; the only difference is that this one in particular is made for all ages not just adults and is a movie that I would definitely consider a comedy.
It is about a middle-aged man named Hubie who on every Halloween night drives around his neighborhood to ensure safety amongst his neighbors. However, this time around some things seem off and strange things start to happen, so Hubie takes it upon himself to save the day from danger that wanders around the town.
In my opinion, I loved this movie when I first watched it. Since then, I have watched it multiple times and I would highly recommend it to anyone who loves classic comedies. All of the jokes hit spot on, and the plot line is easy to understand. I also think that it fits the narrative of a hero movie and an unexpected villain which kids usually tend to enjoy. It has multiple plot twist with tons of jokes that are beyond easy to understand and considering how many times I've watched it is one I think is worth watching. One thing that I enjoyed most though was that it wasn't the typical Halloween movie that has a lot of jump scares but a rather funny twist on all of the things you would expect out of a Halloween movie
All in all, Hubie Halloween was a great experience for me filled with tons of laughs and plot twist that caught me off guard. It's one of those movies that always has humor at the right time. I also feel that the cast all fit perfectly into this movie and all played the parts extremely well. If there was one thing I would critique however, it would be seeing more action added to the plot. Other than that it is a great family movie that everyone can enjoy and have a good laugh.