Spanish Honor Society Inducts New Members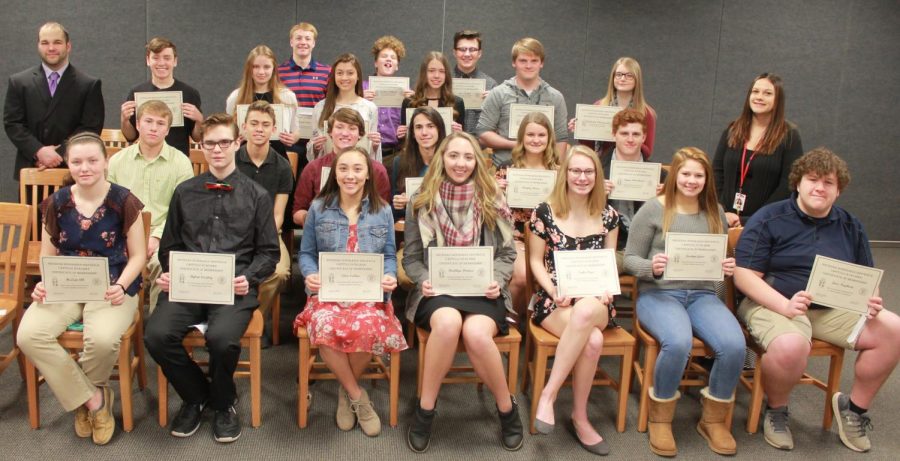 On February 27, 2018, the Clearfield Area Spanish Honor Society held the 9th annual induction ceremony for Spanish students. The students were inducted into the Atacama Chapter of the Spanish Honor Society (Atacama Chapter of the Sociedad Honoraria Hispánica). In order to become a member of the society, the students must have obtained a 90% or higher in their Spanish II class.
The 2018 inductees included: McLain Alt, Jeremiah Bloom, Hugh Brickley, Dylan Carfley, Ellen Collins, Madilyn Domico, Erika Frye, Jocelyn Grice, Zachary Hess, Jace Kephart, Brandon Lacock, Justin Maines, Parker Marshall, John McKenzie, Lennon Miller, Hayley Moore, Logan Munshower, Harrison Peacock, Wyatt Porter, Sydney Shaw, Remington Shugarts, Katelyn Smith, Bella Spingola, Taylor Trinidad, Trevor Wain, Hayden Williams, Kimberly Wilsoncroft, Matthew Witherite, and Cruz Wright. These students work exceptionally hard and excel in their Spanish class. Every member in the society will continue to take Spanish in high school as well as take part in volunteer activities, such as teaching elementary students the basics of the Spanish language.