Students helping Salvation Army replenish shelves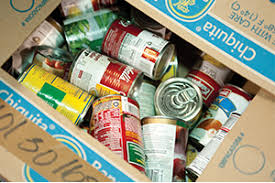 Hang on for a minute...we're trying to find some more stories you might like.
What is the food drive at the Clearfield Area Junior/Senior High School? The food drive is a collection of nonperishable items that will be donated to the Clearfield Salvation Army. More specific items include canned chili and canned meats, pasta and sauces, quick canned dinners, such as spaghetti and ravioli, and boxed dinners, such as noodles, mac and cheese, soups, and baked beans. This drive will begin the week of Thanksgiving and continue until Friday, December 7.
The English Department will be organizing the collection of the food. Asked why the English Department organizes the food drive, Mrs. Moyer, an English and Journalism teacher, states: "The English Department has been doing this drive for many years; it is our opportunity to help local families in need and to give back to our community."
Students can help with this drive by donating canned or boxed food items. These items can then be placed in the donation boxes in their regular English classrooms.
Why does this food drive take place now? When asked this, Mrs. Moyer comments: "The Clearfield Salvation Army serves hundreds of local residents, young and old. In the past, the Salvation Army has requested holiday items specifically, but this year they are in need of quick, hot, and filling meals for the winter months."
This is an important opportunity for students and faculty members to help the people who are in need most. When asked what else Mrs. Moyer would like to share with our readers, she stated: "The English Department sponsors a pizza party for the class period that brings in the most donations." This is an incentive for students to bring in the most items to donate to the Salvation Army while also being rewarded with a pizza party for all of their donations.