Caroling Choir croons throughout the holiday season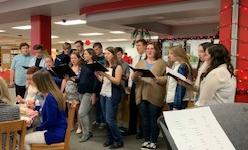 Hang on for a minute...we're trying to find some more stories you might like.
The Caroling Choir comprised of 15 students performed a jolly selection of musical carols for audiences both in the community and inside the school. Rylie Dillon, Elise Dufour, Shelby Flanagan, Katlyne Fye, Jace Kephart, Ryan Lazauskus, Emmalee Marshall, Austin McDanel, Lauren Sattesahn, Remington Shugarts, Katelynn Smith, Haeley Stott, Cruz Wright, and Mason Yocum joined together in yuletide carol for a total of 3 performances.
The first of their performances was at an event held in downtown Clearfield, where they serenaded a handful of businesses on a trek through the town. This performance, Mr. Andrew Rothrock, choral director, confirms is the hardest performance due to the choir's need to endure the cold weather while providing tasteful music.  They also took time during A, B, and C lunches to entertain staff members at the faculty luncheon in the library. Their closing performance was at the annual holiday concert, Experience the Arts, where they linked with other ensembles to greet guests with music when they entered the building.
Their song selection of the season included the well-known tunes: Angels We Have Heard on High, Deck the Halls, Joy to the World, O Come All Ye Faithful, Silent Night, and Hark! the Herald Angels Sing. The piece utilized to close most of the choir's performances was the exultant carol, We Wish You a Merry Christmas.
Ryan Lazauskus and Mr. Rothrock both agree that a lot of work goes into preparing these songs, including practices starting at 6:50 on Monday, Wednesday, and Friday mornings. Practicing is a necessary part of being able to create music in a smaller group than the students are used to. The lack of an accompaniment is a challenge that must be conquered, claims Lazauskus, who also says that one is normally necessary to ensure that the music does not go extraordinarily flat. A pitch pipe is typically employed to help avoid these issues; this year Lazauskus carried the pitch pipe and would provide the starting pitches for each piece.
Rehearsals of the select group are more strenuous than they may seem. The choir works very hard to establish a full-voiced choir that a single voice can change and be noticeable, provides Lazasuskus. Although the choir preforms standard carols, they must create music that allows for a jubilant experience for their audience. Even though their journey ended with the holiday season, the students of the caroling choir are welcome to audition for the 2019 Show Choir in the spring.