Tips for driving in winter weather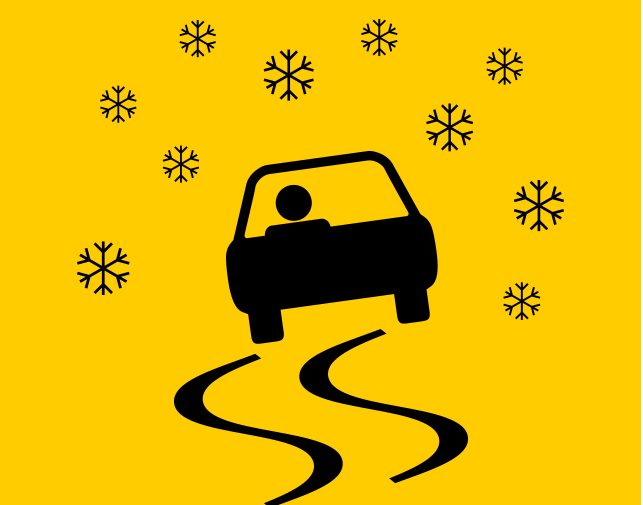 Winter conditions such as snow and ice can have drastic effects on the roads in Pennsylvania. In order to adapt to these conditions, drivers must make certain adjustments to the way they drive.
Driver's Education instructor Mr. Brandon Billotte emphasizes that snow and ice have a great impact on stopping and steering abilities. It is necessary to reduce speed because traction is reduced.
In addition, he explains: "Accelerating and braking should be gentle and gradual when driving on snow and/or ice covered roads."  
School Student Resource Officer Marshall reminds students to increase following distance and slow down due to slippery conditions to avoid sliding. He adds: "Plan on giving yourself more time to travel during bad weather. You never know how the roads are, and you could get held up in traffic because of an accident."
One of the causes of the aforementioned slippery conditions is black ice. According to Mr. Billotte, the best thing a driver can do when they encounter black ice is to stay calm and do as little as possible. This includes not accelerating, braking, and steering in order to avoid losing control of the vehicle.
Mr. Billotte elaborates: "If you were to spin out or slide on ice, you should 'steer into the skid.'  This means that you would want to turn the steering wheel in the same direction the back end of your car is sliding."
He also advises drivers with two-wheel-drive to avoid stopping on hills, gain momentum when approaching steep hills, and to add weight to the rear of the car by placing heavy objects in the trunk.
He recommends initiating four-wheel-drive when driving on very slippery surfaces or when the car is stuck in the snow. He adds that four-wheel-drive does not guarantee protection from accidents, so cautious driving is still a necessity.
Mr. Billotte reminds drivers that some of the biggest risks of driving in wintry conditions are: reduced traction, reduced visibility, less time to respond to hazards, and reduced overall control of the vehicle.
In order to avoid these risks, it is necessary for drivers to take certain precautions. Mr. Billotte recommends reducing speed, doubling following distance, gradual stopping/accelerating, and to avoid traveling on untreated or unplowed roads.
He states that it is a good idea to carry an emergency kit composed of an ice scraper, blankets, extra clothing, a small shovel, a bag of sand or kitty litter to be used to help gain traction if the car were to get stuck, flares, a flashlight, extra batteries, a cell phone charger, a first aid kit, snacks, and bottled water in case of an accident.
In addition, Mr. Billotte advises drivers to clear their vehicles of any and all snow or ice before driving and to maintain a full tank of gas during the winter.