Humans of Our Hallways Project establishes a school-wide connection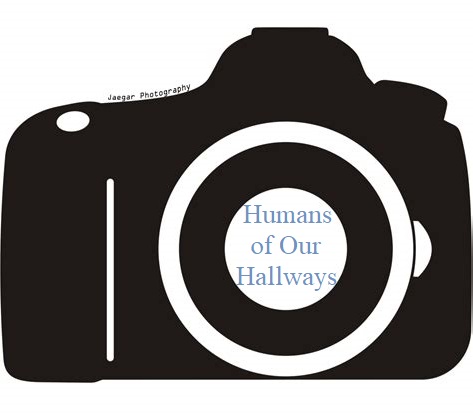 A new addition to the English I Seedfolks unit, Humans of Our Hallways is a collaborative activity between English I and Introduction to Photography students. The two courses joined to create a showcase of student perspectives of life in and outside of the school. The Humans of Our Hallways project combines the ideas from the novel Seedfolks by Paul Fleischman that emphasize the power of the human perspective and stories of everyday students that might not have been otherwise known.
English I teachers Mrs. Zimmerman and Mr. Cima added the project into their classes at the recommendation of an enthusiastic young student, Jeri Mallon. Zimmerman recounts that Jeri approached her during the unit with an idea that she could not possibly pass up.
The project was a combination of student life with one like "Humans of New York" created by Brandon Stanton, which Mrs. Zimmerman says was a great influence on the students. She and Cima ultimately found that displaying student perspectives while utilizing an assignment close to their unit was an opportunity that could not be overlooked.
The "Humans of Our Hallways" were English I students who shared personal stories and embraced the project. Their photos were taken and edited by Mrs. Kuntz's Intro to Photography class to accompany their unique stories. Students shared personal accounts of life through their own eyes and offered vulnerability that otherwise they may not have had the outlet to share. Mrs. Zimmerman emphasizes that anybody can be a human of the hallway for all we must do is take the time to learn the stories of others.
Mrs. Zimmerman hopes that more people will be able to share their stories and that they will learn how important communication is in our daily lives. She offers that each person we see in a day has their own story that we have yet to learn or discover. The Humans of Our Hallways project gives students the opportunity to communicate the parts of themselves that people may not have known.
Mrs. Zimmerman believes that at the heart of communication lies the truths that we hold within ourselves. She also says, "Never be quick to judge another human. When we take the time to learn more about one another, there is less judgement and more love." Although the Humans of Our Hallways project has concluded, sharing your story and communicating will help to open the minds and hearts of others around you.
To see a project like the Humans of Our Hallways, you can visit http://www.humansofnewyork.com/  or look around the school for some showcased students' works.