Seniors are a major help in the community
Hang on for a minute...we're trying to find some more stories you might like.
Seniors Ally Hertlein, Brianna Shaw, and Makeeli Redden play a major role in the Helping Hands Club at the school. Each girl has been involved for four years and spends countless hours dedicating themselves to this club on top of other activities that they are involved in. This time is often spent with the club supervisor, Mrs. Zimmerman, whenever she needs help with anything club related. 
All of the girls help Mrs. Zimmerman daily whenever she needs it, which sometimes may mean meeting with her several times a day. They said several hours a week are spent helping her. Ally explained "at least an hour a day" is spent with Mrs. Zimmerman and Brianna added that some of that time is outside of school hours.  
All three of them are involved in other school activities and out- of-school activities as well. Ally stated, "I'm in Varsity Cheerleading, Competive All-Star Cheer, the Drama Club, Spanish honor Society, and National Honor Society." Brianna explained that she is in "Spanish Honor Society, National Honor Society, Varsity Cheer, and Senior Class Officers." Makeeli stated, "I am involved in Varsity Swimming, Varsity Cheerleading, CRC Youth Council, and National Honor Society." 
In Helping Hands Club they help organize and run many of the events that the club sponsors, and each girl has a favorite project. Ally explained, "My favorite project is our Girls Day Seminar. I love it because it is such a positive day for young girls and I always leave feeling inspired!" Makeeli also enjoys the Girls Day Seminar, adding, "It makes me happy to see other people enjoying something we work so hard on." Brianna explained her favorite is "probably Random Acts of Christmas Kindness (RACK); we do an act of kindness per day." 
Each girl also added that they enjoy the club because it brings people together who want to help out of the kindness of their hearts. As a final statement, Ally explained, "Helping Hands Club is for everyone. If you want to make a difference in our community, our club is a great way to start! Your little extra time out of your day can make a huge impact!"
Makeeli added, "Everyone is always welcome to join the Helping Hands Club." Additionally, Brianna stated, "Mrs. Zimmerman has the kindest heart and deserves so much more than she receives."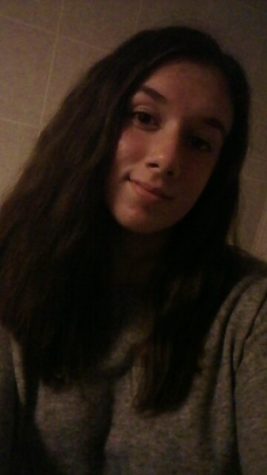 Emily Shipley, Staff Writer
I am currently a junior at the CAJSHS and I participate in multiple school activities. I am in both cross country and soccer in the fall, I swim in the...