Junior High Reader's Theatre Club prepares for another play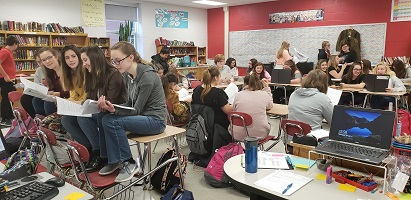 Hang on for a minute...we're trying to find some more stories you might like.
Four years ago, Clearfield Area Junior-Senior High School created the Readers Theatre Club for Junior High students. This club gives 7th and 8th grade students an opportunity to rehearse and perform reader's theatre plays with friends and enjoy doing it.
This year they have 38 amazing students involved, and there are six senior high students who assist with the huge number of students participating. There are no more members accepted due to how many members are already in this club.
For the first time ever the Tech Department of our school took a video of the Christmas play the students performed and posted it on the school's Youtube channel, says Ms. Stibitz, the director of this club.
The goal for this club is to make sure the students keep having fun performing plays, Ms. Stibitz adds. She also wants students to improve and emphasize dramatic expression and enthusiasm.
Ms. Stibitz and all the upperclassmen who assist with this club do amazing work and bring joy to many Junior High students. Emmalee Marshall, Katie Smith, Jace Kephart, Remy Shugarts, Ryan Lazauskas, and Ben Leighow all have put time and effort into making this club run smoothly. Ms. Stibitz is sure to include: "I couldn't have managed this large group without them!"
Visit the Clearfield Area Junior Senior High School's Youtube Channel for some of the wonderful plays from Reader's Theatre Club.