Get out of your comfort zone with Theatre Arts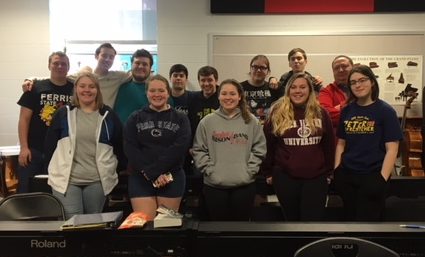 Hang on for a minute...we're trying to find some more stories you might like.
Vaudeville, Tin Pan Alley and Minstrel shows are something most people have never heard of. In Theatre Arts students get introduced to all of these and more. At Clearfield Area Junior-Senior High School, the theatre productions are extraordinary. The scenery, acting, and singing is top notch because the students, teachers, and others helping with the productions work very hard to make them the best.
Mr. Switala, who helps with these plays and musicals, also teaches Theatre Arts and Advanced Theatre Arts which is open to all grades. Theatre Arts is offered in the fall semester and Advanced Theatre Arts in the spring semester. Mr. Switala has been involved in Theatre for ­­­­­­over 15 years in the school and community but has been teaching Theatre Arts and Advanced Theatre Arts for 2 years.
It is a great way for students to get out of their comfort zone and try something they might not have before. Mr. Switala elaborates, "Theatre is for everyone.  I would strongly encourage anyone who likes to be creative and express themselves to sign up for these classes.  Also, theatre arts gives students a great opportunity to develop confidence and self-expression they may not have even realized they had." He wants students to realize it is a safe place to step outside where they are normally comfortable and realize their true potential.
Currently in Theatre Arts, the students are exploring the different types of Broadway shows through the decades. Not only does it show the importance of Theatre in the culture of today's world and the impacts that it has had, but it also shows how people can become a different character and express themselves even if it's not the "normal" at the time.
Mr. Switala elaborates that he believes theatre provides everyone with an opportunity for self-expression and creativity. It also offers everyone a chance to gain self-confidence and a sense of who they truly are. Students who take this class believe it comes with a sense of release from the rest of the day. Mr. Switala explains becoming a character or portraying a role can give students the opportunity to "become" someone else and possibly see life through "their" eyes. Mason Yocum, a student currently in the class explains, "Theatre Arts is the release from the stressful school day and it's a place where I can always be myself."
If you're looking to find something that can get you out of your comfort zone this would be the class. It is not only informative but it helps expand what you're normally used too. If you need a class to fit into your schedule, I would highly recommend this one.