Clearfield Wrestling dominates districts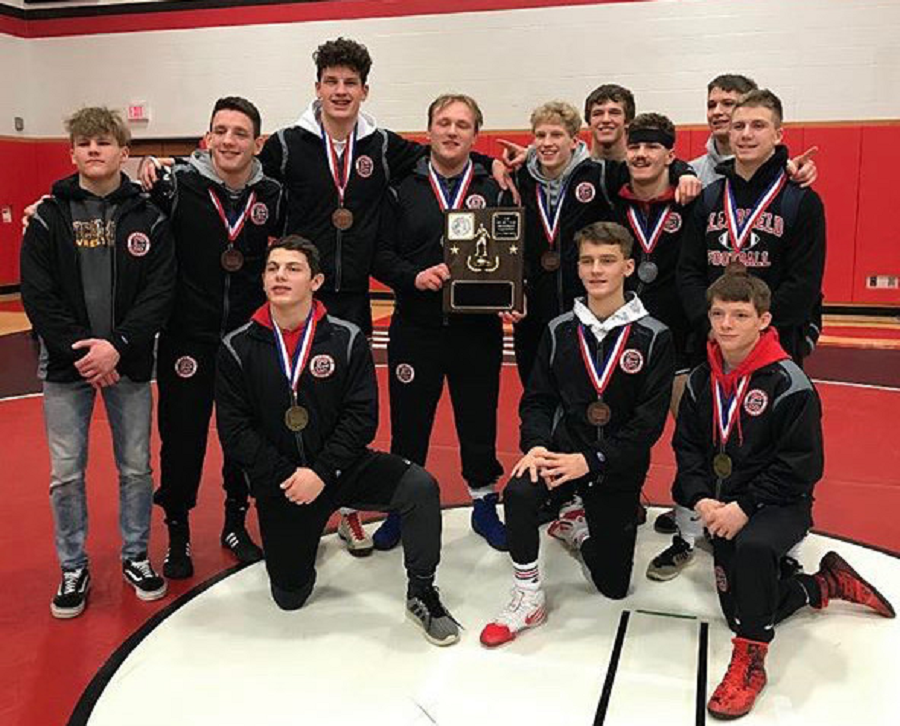 The Wrestling District 4 and 9 Championship meet was held on February 23, 2019 at Clearfield. This competition was a major success for Clearfield as the ream won the individual District Championship meet with a total of 169.5 points, with DuBois finishing in second with 158 points. The team wrestled a Medal Round going 8 for 9 in order to seal the title as District Champions.
The wrestling team had nine wrestlers who qualified for the Northwest Regional AAA Tournament in Altoona on March 1 and March 2. These qualifiers were John Thomas, a District Champion, Mark McGonigal, a District Champion, and Avry Gisewhite, a District Champion, Nolan Barr, placing third, Karson Kline, placing third, Jude Pallo, placing third, Caleb Freeland, placing second, Brett Zattoni, placing fifth, and Oliver Billotte, placing second.
Mark McGonigal finished the regional meet as the Northwest Regional Runner-up at 153 lbs.
When asked about how the team performed at regionals, Jeff Aveni, the head wrestling coach, states: "The team performed Admirably, with Karson Kline and Nolan Barr each winning 2 matches as Freshman, Caleb Freeland and Oliver Billotte finishing in the top 6, and Johnathan Thomas finishing 4th just one spot shy of qualifying for the State championships.  Jude Pallo went 1-2, Avry Gisewhite went 1-2, and Brett Zattoni went 0-2."
Only three wrestlers from each weight class, out of every person who qualified, qualified for the PIAA State Tournament in Hershey on March 7, 8, and 9. At the PIAA State Tournament, Mark McGonigal went 0-2 for both of his matches. Attending states was a very high accomplishment for Mark as he is only a freshman in his weight class of 153 lbs.