Clearfield juniors shock 'em all at Penn State University Linguistics Day Competition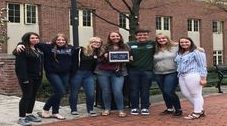 Without any knowledge that there would be a competition at all, several students from Clearfield manage to shock 'em all and beat State High and Penn's Valley at Penn State University Linguistics Day.
Seven juniors, Madilyn Domico, Madison Hubler, Lennon Miller, Emily Shipley, Katelynn Smith, Kimberly Wilsoncroft, and Cruz Wright, from Clearfield Area Junior Senior High School were given the opportunity to go to Penn State University to learn about linguistics, the study of human speech including the nature, structure, and development of language or of a language or group of languages.
These students got to hear lectures from three different professors and were able to learn a lot about where different languages come from and how people speak around the world in comparison to the way we speak ourselves.
The Clearfield students started out this surprise competition with the lowest score of the three schools. Just as they started to feel like there was no hope for them, they started climbing up. They slowly rose above Penn's Valley. A few worksheets later, the hour was up. They waited as their score had been just below State High's the whole second half of the competition. As the score were counted up, Clearfield had risen to the top just above State High causing them to win the competition. In the words of Kimberly Wilsoncroft, "The competition at linguistics day was intense, the final score was close. We won by half a point. We really did shock 'em all."