Mrs. Borden provides insight into her Public Speaking class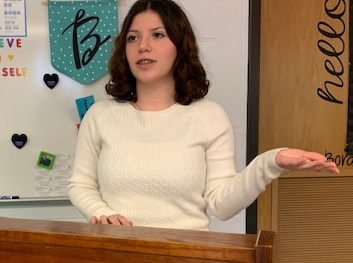 Public speaking is a skill that is used almost every single day for many different people. For most, the idea of speaking in front of a large group of people is extremely terrifying. However, here at the Clearfield Area Jr-Sr High School, a course taught by instructor Mrs. Borden can help to make this nightmare into more of a breeze. Not only is public speaking an extremely necessary skill, it can be beneficial to learn how to do in the long run.
Mrs. Borden provided some insight as to how the course works and as to how students who choose to enroll in this class can benefit from the skills that are taught.
Q: What is the Public Speaking curriculum?
Mrs. Borden: "The curriculum taught was originally developed by Penn Highlands Community College and has been implemented here at CAJSHS for the past eight years. The curriculum includes: Research, preparation, and delivery of various types of speeches, developing active and critical listening skills, developing the ability of giving and taking constructive criticism, awareness of the ethical responsibilities of a public speaker and listener." 
Q: What do students' study in this course? 
Mrs. Borden: "As listed in the course guide and syllabus: This course is designed to help the student build confidence in the theory and practice of public speaking, with the emphasis on the speaker-audience relationship.  Skills include analyzing the speaking situation, choosing appropriate topics, conducting research, organizing ideas, utilizing evidence, using voice and body to deliver public speeches effectively to a live audience, and developing the ability to listen actively and critically."
Q: What grades are eligible to take Public Speaking?
Mrs. Borden: "Eleventh and twelfth grade students."
Q: How many speeches are written and presented in this class?
Mrs. Borden: "It varies from year to year, but on average a minimum of six speeches are written and delivered by students."
Q: How can this class be taken for college credit?
Mrs. Borden: "Dr. Spaid provides Dual Enrollment forms from Mount Aloysius to students. Payment and forms are due by the deadlines set by guidance. You can see Dr. Spaid for more details."
Q: Why would you recommend students take this course?
Mrs. Borden: "I think any student can benefit from taking this course. Almost all students will need refined speaking skills for the future regardless of one's future career plan. This course however, is not for the faint of heart. It is rigorous and taught like a college level class. Deadlines must be met, and attendance is imperative for student success."
Q: Who do you recommend taking this course?
Mrs. Borden: "Most students who are college bound should take this course. It is highly recommended that sophomores take Pre-AP before registering for English Comp and Public Speaking as a junior. Mrs. Moyer has developed the Pre-AP curriculum to ensure students have the prior knowledge and rigorous assignments needed in order to be successful in English Comp and Public Speaking. Mrs. Moyer does an excellent job of preparing students for my courses."
Q: Is there anything else about the course that you would like to let our readers know?
Mrs. Borden: "Many students don't take English Comp and Public Speaking because they suffer from glossophobia. Later these students realize they should have taken this course in high school and paid for the dual enrollment credit. These are requirements in any college major. While the course is rigorous and can cause students a bit of speaking anxiety, don't miss out on the opportunity to take it in high school. You will thank yourself later." 
Overall, Public Speaking is a great opportunity for many students to overcome their feels and step out of their comfort zones. It is a great course to consider if you are looking for a way to prepare yourself for not only college, but life in general. If you meet the requirements, it is recommended that you take Public Speaking in order to make many tasks in the future that require speaking in public much more simplistic.
About the Writer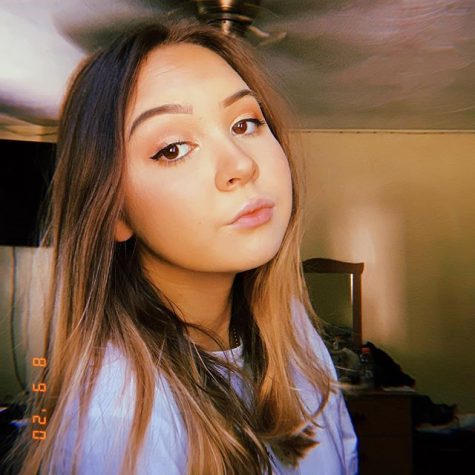 Summer Wynn, Staff Writer
Hello! My name is Summer Wynn and I am a senior in high school. In my spare time, you can find me buying sneakers to add to my extensive collection, working...