Mr. Struble: In challenging times like these, remember what matters most
Every year, The Stampede does a question- and answer-interview with our superintendent, Mr. Struble. With a unique school year to say the least, COVID- 19 brought some unique responses from Mr. Struble concerning the 2020-2021 school year. To see Mr. Struble's responses on the 2020-2021 school year here at Clearfield Area Junior-Senior High School, continue reading down below.
Q: With the many challenges facing the new school year, what are you most looking forward to this year?
Mr. Struble: "I think it is a mix of a safe return for everyone's health, but with that finding a new way to work through the challenges we have and still provide a meaningful learning experience."
Q: In what ways is the school district looking to ensure student safety?
Mr. Struble: "The first step was to not forget all of the traditional safety items. As an example, while it is tempting to throw open all of the doors and allow as much fresh air as possible, we still must remember why we have kept doors locked in the past and that our focus on safety must be a complete picture. As for new safety items, most of that, if not all of that this year is focused on health safety. From maximizing fresh air exchange in the classrooms, social distancing when possible, wearing our masks, additional cleaning routines, to our A/B student split, there has been a comprehensive plan put in place to help maintain, as much as possible a safe environment for our students."
Q: What are some goals for this year?
Mr. Struble: "A return to normalcy. With our abrupt ending to school in March, our goal has been focused on getting students and staff back in school as safe as possible to provide the best experience we can for learning. This has been a slow process and that is intentional. Each time we take a new step, there are new challenges and we need to recreate the path. As part of all of that a growing goal is our students' use of technology in the online world of learning and finding ways to make that meaningful from Kindergarten through the senior year."
Q: What are the top three challenges facing students in this district?
Mr. Struble: "I think this year so far it has been the need to have the split schedule, grasping and understanding the new online tools, and for some having the resources with internet access at home to be on the same page as their peers."
Q: What is the district doing to address these challenges?
Mr. Struble: "We have asked each classroom teacher to take the time to make sure the students know where to find materials for this classes online. That the students know how to then access it and complete it. If someone doesn't have internet access, making sure the school is aware and helping that student find work arounds to those challenges."
Q: What one thing do you think students should keep in mind as the year moves forward?
Mr. Struble: "Our first focus is on the health and well-being of our students and staff. District wide we encompass over 2100 students and over 350 employees. At any point in time, the dynamics can change and the needs for any of those individuals can impact what we do as whole. This creates then the realization that each day is going to be unique, and as much as we crave routine at this point in our journey, the reality is that we need to be ready for just about anything. While that can be an uncertainty, the District's goal is to make sure we can do as much as possible for each student to help them succeed. That may look different than it did two years ago, last year, or even maybe a week ago. When that happens, it is important to know that none of us are alone in this process, and we are living and learning it together."
Q: What traits do you think seniors need to transition successfully after high school?
Mr. Struble: "What I believe seniors need to think of more than before is how do they make learning their own thing. It doesn't matter what one's career path is, it is now more relevant than ever to be flexible and find one's own solutions to becoming successful. What you start at one point may not be able to be finished when you expect it at another point, so staying focused on the things that matter most over a lifetime are key."
Q: What short term and long-term effects do you think COVID- 19 with have on the school district moving forward?
Mr. Struble: "Short term it has created a multitude of challenges from how we operate on a daily basis to how we find our best way to educate our students during this time. Long term I see benefits in how we do educate moving forward including more use of technology and online learning. A greater focus on what is taught at school and what is left to the student to practice and study on their own. With that comes the ability to look at what is a school day? Who needs to be here every day or the whole day? I think we could get to a more tailored education to what each student needs as they move through this process called school. While the younger students may need the full school day for 180 days, it may be possible to treat juniors and seniors more like the college experience with a mix of time in and out of the classroom. This can't happen alone at Clearfield as there is a myriad of state rules and regulations that made a lot of sense when they were written decades ago, but our COVID experience has shown us they can change, and probably should."
Q: Do you have anything else you would like to say to students, faculty, and staff?
Mr. Struble: "2020 has proven to be a challenging year. It has also shown us our resiliency, our character, and what our determination can look like when we push ourselves, or we are pushed, to change and grow. There have been so many questions asked over the last six to seven months that we have no answers for. Questions have raised from the silence about how we should treat one another, who we should believe, what is real, what is fake, and so many others. In all of it, we need to remember that we share the same journey. None of us can truly be successful if someone in our school community is hurting and not growing to their full potential. So it is important to remember who we are and what matters most. It may be the best of the times, and may not be the worst of times, but it is our time. Our time to do what we can. Our time to solve the problems we have. Our time to build trust and support among one another as we help pull each other up."
About the Writer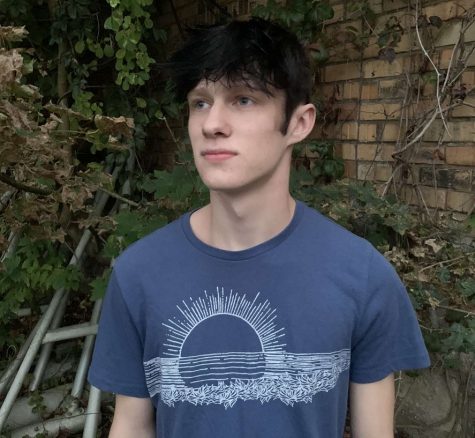 Simon Quigley, Staff Writer




My name is Simon and I am a senior. One of my future plans is to attend college for sports journalism.