How COVID-19 has effected the 2020 Marching Band season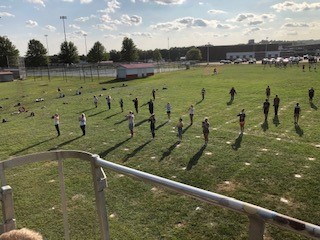 This new school year has brought forth a lot of unexpected challenges due to COVID-19. There have been many procedures put in place in order to keep both students and faculty as safe as possible during this school year. In order to get a better look at how COVID-19 has been affecting parts of our student body, I reached out to the director of our marching band to see how these procedures have been altering the band's season so far.
When asked about the procedures put in place for band this year, Mr. Mandell, director, said: "The students wear masks all the time, even outdoors. Social distancing is also mandated indoors as well as outdoors. Temperature checks and health questions are required every practice. All the wind instruments have bell covers and the flute players wear shields." These are procedures every student in the band must go through before practicing or performing which adds a lot of stress on everyone involved in order to get everything done in a timely manner.
How has COVID-19 effected practices and what has been the biggest obstacle to overcome? "It takes time out of rehearsal to do the health and safety checks. Also, since we cannot use the band room, rehearsals have had to be either with smaller groups or moved outdoors, which is weather dependent," Mr. Mandell said. He added that the biggest challenge so far this year has been a lack of space. Since all the students must socially distance during practice, it has been a constant struggle to find places large enough to hold all of the students involved.
Despite all this, Mr. Mandell explained that the band was able to practice a half-time show for this year and will still be able to perform the show as they have done years prior, just with some added adjustments due to the health and safety protocols.
Drum majors Rylie Dillion and Madyson Gillen shared their insights on how COVID-19 has been changing marching season this year. Madyson explained that it has been more difficult than she expected trying to adapt to all the changes of the world while also trying to keep everyone safe. Rylie noted: "I would say the hardest obstacle I had to face because of COVID-19 this year is wearing a mask and not being able to physically socialize with my friends." She explains that in previous years of band she would high five or hug her friends after they got done playing but due to social-distancing rules she can no longer do that this year.
Rylie explained that although everyone seemed to struggle with adapting to the changes at first, with a little time and effort everyone was able to figure out how to work around any issues that occurred. She explained that although no one is particularly happy about all the protocols that have been put in place, they are all happy that they have been able to figure out ways to still participate in something they have all worked so hard for over the years.
Lastly, Madyson said she looks forward to everyone putting in their best efforts to keep their marching season going. She wants everyone to have the best marching season possible even with all the changes that have been made.
After hearing from the bands' director and two drum majors it seems the band has collectively come together to figure our ways around any obstacle that has come their way. They have not let COVID-19 stop them from participating in this activity they have all worked so hard for and have not let it diminish their spirits for a good season either. The marching band is a great example of how with some time and effort anything is possible as long as you put your mind to it.
About the Contributor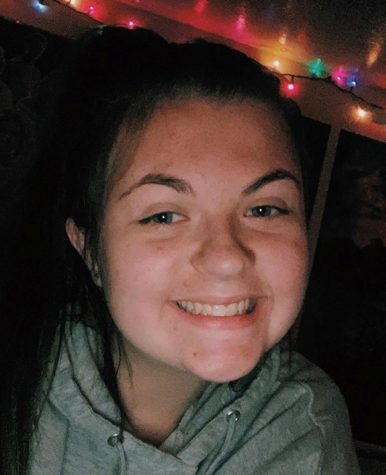 Kendyhl Luzier, Staff Writer
Hello, my name is Kendyhl Luzier and I am a senior. I am a part of the girls tennis team and enjoy baking, photography and watching movies in my free time.