NFL Award Pick Through Week 12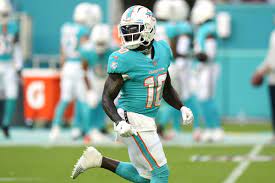 With the NFL season approaching the playoffs, the award races are winding down. The most notable awards are considered to be the MVP, offensive player of the year, and defensive player of the year. They can be difficult to predict as it comes down to analyst's votes and choices can be surprising.
The most valuable player award is considered to be the most glamorous award a player can earn. Unfortunately, the award at this point is nearly a QB only award at this point. It has been over a decade since a non QB has won the award. It is safe to say, this is not the year for the streak to end. The current top candidate is Patrick Mahomes. Patrick Mahomes is making a run for his second MVP in 4 years. He has thrown for nearly 4,000 yards while throwing 30 touchdowns to just 8 interceptions. Mahomes and the Chiefs have also posted an impressive 9-3 up to this point. Patrick Mahomes is making a great case to win his second MVP award at the young age of 27!
The offensive player of the year has essentially become an award for a skill position other than a quarterback to win. Miami Dolphins wide receiver Tyreek Hill has set himself apart as the favorite to win this award. Hill has posted an outstanding 1,380 receiving yards through the first 12 games, putting him on pace for an NFL record 1,950 yards. Hill also has the Dolphins, who missed the playoffs last year, at an 8-4 record and the third seed in the AFC. Tyreek Hill has made an immense impact on the Dolphins and is currently a favorite to win a great honor for wide receivers.
The defensive player of year award has been dominated by Aaron Donald over the last half decade. Surprisingly this will probably be the second season in a row where Donald does not win the award. Second year player out of Penn State, Micah Parsons of the Dallas Cowboys, is the runaway favorite to win the award. Parsons has posted an impressive 12 sacks in 12 games. He is also a huge reason for the Cowboys solid 9-3 record. The Cowboys lost their starting quarterback for over a month, but Parsons has kept them afloat and they are in a great position to make a run this season.