Ethan's Café Review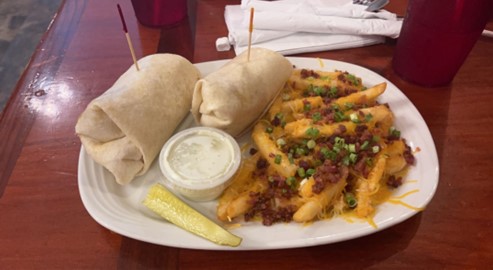 "Big city cafe energy in a small mountain town." This is the review that one Yelper left for Ethan's Café in downtown Clearfield. This hidden gem is tucked in between office buildings and family-owned businesses, and you probably wouldn't know it was there unless you lived here. Even the small-town vibes of Clearfield can't deter customers, and the restaurant has earned a 4.6-star review.
When I recently visited the restaurant, I picked up a to-go order after school and the cafe's only issues were glaringly obvious. As an anti-parallel parker, I chose to park behind the Rite Aid building on the corner of Market Street and S 3rd Street and walked over. The restaurants "difficult" hours are the only reason that I don't eat there more. They are only open 11-4 on Monday through Friday. I find that limited hours and parking won't stop me from enjoying the food.
My go-to order is a Buffalo Chicken wrap with Dune Fries and a strawberry lemonade. I personally get my wrap without tomato, and I prefer to go for the garlic herb wrap. The wrap is served with a pickle spear and a choice of potato chips or carrots and celery sticks. Rather than the chips or veggies it is usually made with, I get Dune Fries. Dune Fries are fries topped with cheddar-jack cheese, bacon, and scallions.
The second half of the restaurant is The Angry Bean Coffeehouse. They have a delicious menu consisting of lattes, hot chocolates, teas, macchiatos, and many more. Personally, I am more into their flavored lemonades, but many of my friends have enjoyed their caffeinated beverages as well.
I recommend that everyone checks out this small-town gem and tries out the Dune Fries with their homemade ranch.