New Movies in the Month of Love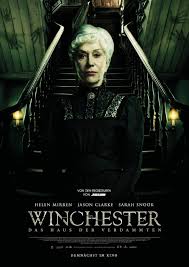 In this edition we take a look at upcoming movie releases in February, as well as some late January movies. All the information presented below is from moviefone.com.
Winchester
Release Date: February 2nd, 2018
PG-13
Plot Summary
After the sudden death of her family, firearms heiress Sarah Winchester becomes convinced that she's haunted by the souls of those killed by guns. Winchester then decides to build an enormous mansion that's designed to keep the evil spirits at bay. When skeptical psychiatrist Eric Price visits the estate to evaluate her state of mind, he soon discovers that her obsession may not be so far-fetched after all.
Black Panther
Release Date: February 16th, 2018
Not Yet Rated|2 hr 14 min
Plot Summary
After the death of his father, T'Challa returns home to the African nation of Wakanda to take his rightful place as king. When a powerful enemy suddenly reappears, T'Challa's mettle as king — and as Black Panther — gets tested when he's drawn into a conflict that puts the fate of Wakanda and the entire world at risk. Faced with treachery and danger, the young king must rally his allies and release the full power of Black Panther to defeat his foes and secure the safety of his people.
Red Sparrow
Release Date: March 2nd, 2018
Not Yet Rated
Plot Summary
Prima ballerina Dominika Egorova faces a bleak and uncertain future after she suffers an injury that ends her career. She soon turns to Sparrow School, a secret intelligence service that trains exceptional young people to use their minds and bodies as weapons. Egorova emerges as the most dangerous Sparrow after completing the training process. As she comes to terms with her new abilities, Dominika meets a CIA agent who tries to convince her he is the only person she can trust.
Deadpool 2
Release Date: May 18th, 2018
Not Yet Rated
Plot Summary
Wisecracking mercenary Deadpool battles ninjas, the yakuza and a pack of aggressive canines as he embarks on a new adventure.
Incredibles 2
Release Date: June 15th, 2018
Not Yet Rated
Plot Summary
Elastigirl springs into action to save the day, while Mr. Incredible faces his greatest challenge yet — taking care of the problems of his three children.
Rampage
Release Date: April 20th, 2018
Not Yet Rated
Plot Summary
Primatologist Davis Okoye shares an unshakable bond with George, an extraordinarily intelligent, silverback gorilla that's been in his care since birth. When a rogue genetic experiment goes wrong, it causes George, a wolf and a reptile to grow to a monstrous size. As the mutated beasts embark on a path of destruction, Okoye teams up with a discredited genetic engineer and the military to secure an antidote and prevent a global catastrophe.
Pacific Rim: Uprising
Release Date: March 23rd, 2018
PG-13
Plot Summary
Jake Pentecost is a once-promising Jaeger pilot whose legendary father gave his life to secure humanity's victory against the monstrous Kaiju. Jake has since abandoned his training only to become caught up in a criminal underworld. But when an even more unstoppable threat is unleashed to tear through cities and bring the world to its knees, Jake is given one last chance by his estranged sister, Mako Mori, to live up to his father's legacy.
The Competition
Release Date: January 26th, 2018
Not Yet Rated
Plot Summary
Lauren Mauldin encourages women to follow the "PIG Theory," and to break up with men precisely at six months in order to avoid heartache. But then she meets Calvin Chesney, who refuses to be dumped. Instead, he challenges Lauren to a competition.
The Neighbor
Release Date: January 26th, 2018
Not Yet Rated|1 hr 24 min
Plot Summary
Searching for his missing girlfriend, a man sneaks into his secretive neighbor's house and finds several kidnapped people in the cellar. He must lead them out of the house of horrors before his neighbor returns.