Former Clearfield Area High School student Nick Hudson has internship with USC chief of staff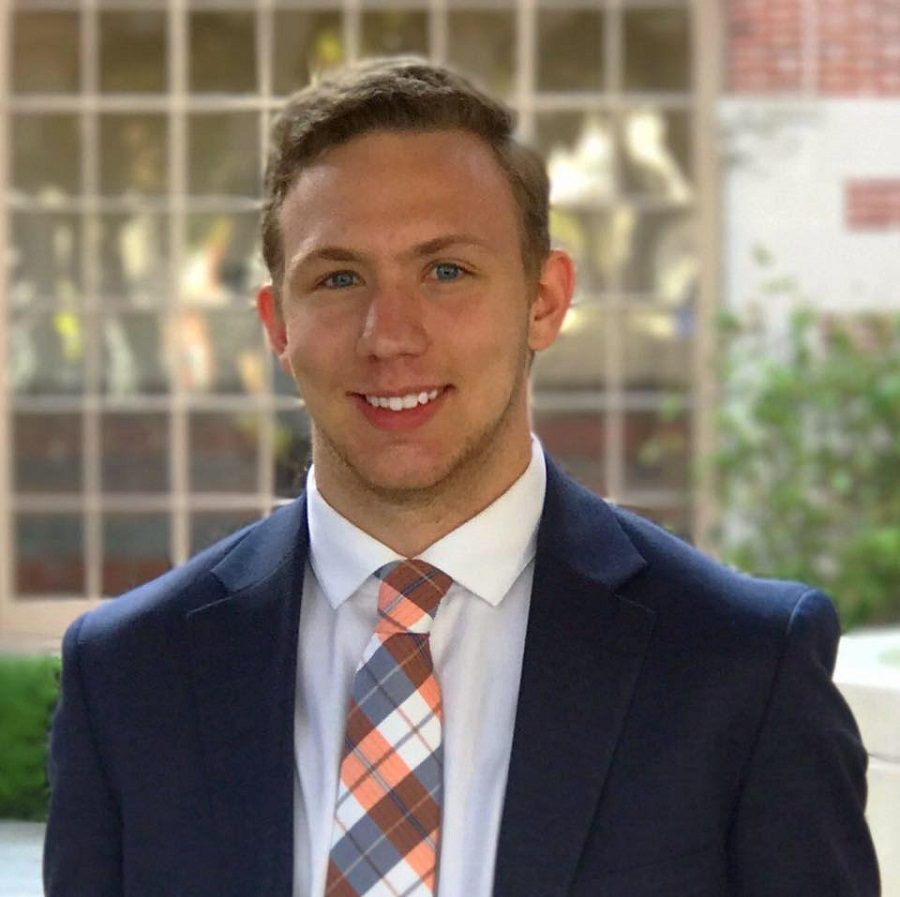 Nick Hudson is an intern to the University of South California Chief of Staff and Deputy Chief of Staff but before that he attended Clearfield Area Junior-Senior High School. Nick graduated from Clearfield Area High School in 2015. He was also a writer for The Stampede. Nick now attends the University of Southern California where he is majoring in political science and minoring in nonprofit management and classical history. After Nick graduates in May 2019 he would prefer to stay in politics. Nick recently answered interview questions via email and these are his responses.
Question 1: How did you get the internship?
A: " I began working for the university in the most mundane job in the university events office. There, I discovered an affinity for producing events with the university and began working on events specifically for then-President C.L. Max Nikias. In doing so, I was able to become familiar with him and a number of his staff members. When a position opened up in the Office of the President, I knew I wanted to work there and began that discussion with several of the people I knew. Since then, I've also changed roles to my current position."
Question 2: What does your internship entail?
A: "My actual title is Intern to the Chief of Staff and Deputy Chief of Staff. Basically, this means that I help support them and the President in the day-to-day functioning of our office. This can entail writing briefings for the president, setting up or facilitating meetings, interfacing with other departments on projects we're working on, hiring and training new assistants, and myriad other duties."
Question 3: Do you enjoy your internship?
A: "Yes! This is my favorite question. The University of Southern California is massive school, with approximately 45,000 students enrolled and over a $5 billion endowment. Being able to be at the center of running this massive organization for the past year and a half has been an incredibly rewarding and enlightening experience. It also comes with the ability to meet and network with a lot of incredible professionals, from CEO's and public officials to people like our commencement speaker this past year, a world-renowned cancer researcher."
Question 4: How did Clearfield help prepare you for your future?
A: "I would say that a lot of the teachers were pivotal in assisting me to get to this point in my life. People like Mr. Billotte, Mrs. Moyer, Mrs. Warlow, Mrs. Borden, and Mrs. Fye were all instrumental in helping to prepare me for college, in addition to helping me navigate the college application process via things like writing letters of recommendation."
Question 5:  What made you want to work in the president's office?
A: "I'll be forever grateful to USC for all that this university has given me. Like many other students from the Clearfield area, I am a first generation college student. Being able to attend such an elite school has already opened up so many doors, personally and professionally. Working for the President's Office makes me feel like I'm able to give back to the school that has undoubtedly changed the course of my life."
Question 6: When did you get your internship?
A: "I first started working there in May of 2017. For college work experience and internships, it has had a long duration. I plan on staying until I graduate."
Question 7: Who inspired you the most to go for this internship?
A: "I'm not going to say a specific person. Rather, I want to give a shout-out to two programs I was involved in during high school. Of which is called Upward Bound, which used to cater to Clearfield and essentially helps prepare students to be successful at college and helps them with the application process. The other is this organization called QuestBridge, which is a program I applied to and helped me believe in my ability to gain admittance to their partner colleges throughout the country."
Question 8: Is there anything else you are working on?
A: "At the moment, I have no other internships. But I've also had the privilege of interning with a few other organizations and officials in the past, one of which is Equality California, one of the nation's LGBTQ nonprofits. In addition, I've worked with Senator Hertzberg of the California state Senate, and Gavin Newsom's gubernatorial campaign, who is the current Lieutenant Governor of California."
Question 9: Has the Clearfield Area High School journalism class helped you in anyway?
A: "Absolutely! When I was a student at Clearfield, the journalism course helped expose me to being able to take a project and really run with it – just like you do in college. Here, the professors generally don't tell you what to write about. It's a pretty open-ended process. And the journalism class really enabled me to think more creatively about the substance and style of my writing."
Question 10: What are your plans for the future?
A: "Well, I'm getting ready to graduate in May of 2019. Post-graduation, I would prefer to be working for an elected official, a political campaign, or an organization that performs political advocacy."
Question 11: Is there anything else you would like to tell the readers?
A: "If I had to tell myself one thing from high school, it would be to believe in yourself. No one can give you the confidence to pursue your dreams except for yourself."
About the Writer
Molly Kessler, Staff Writer
My name is Molly Kessler and you most likely don't know anything about me so let me tell you some things about myself. I am currently a junior. I really...