The Dance Co. puts on The Nutcracker at CAST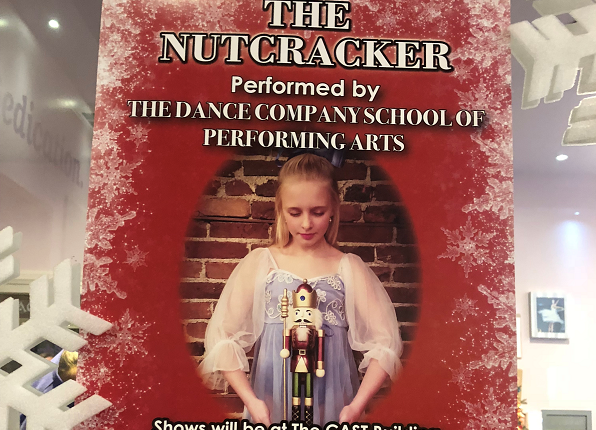 Every holiday season, many dance or performing arts schools put on the well-known show, The Nutcracker, composed by Pyotr Tchaikovsky. This year is the second year that local dance studio, The Dance Co., puts on the show at local theatre company, CAST. Many students in the Clearfield Area School District, as well as multiple surrounding schools, are participating in the show this holiday season.
The show follows the events that happen to the main character, Clara, played by Zoie Sidorick, on Christmas Eve. From the annual party that her parents hold, to the moving toys they get as gifts, to the Nutcracker King, his soldiers, the mice, and the Mouse King,  it turns out to be a very eventful night for Clara. Soon she is transported to the Land of Snow, followed by the Land of Sweets, and finally the Land of Flowers, for a night Clara will never forget.
I asked multiple cast members of the show questions regarding the amazing experience of being in The Nutcracker. Zoie Sidorick, playing Clara, states, "It's a great opportunity for me as a dancer. It's really fun, I love dancing with some of my best friends and making new friends. My favorite part is being with my friends and improving my dance skills! It's a great opportunity for a local town to have a great performance with not that many people."
In addition, Elizabeth Ryan, dancing as the Snow Queen, states, "My favorite part of being Snow Queen is when I get to see the little kids excited because they think they are seeing a real queen. It is also an amazing feeling to be the lead in the snowflake dance with all my friends. My favorite part of being in the show is getting to be a part of a production and having big rehearsals and performances. It's also an awesome way to get into the Christmas spirit!"
Director and choreographer Dana Timko said that it has always been a dream of hers to choreograph her own version of The Nutcracker, as it has been a holiday tradition for her to watch every year. She states, "It has definitely been a lot of hard work but it is so worth it in the end. The whole show is so magical and I love watching all of my students on stage and hope they will cherish their memories onstage and continue the tradition themselves."
Last year's performance at CAST was a huge success, with all four sold out shows, meaning that a fifth show was added to the already four shows this year to accommodate more people who may have missed out on the show last year.
Show dates are December 19, 20, 21, and 22, at 7:00, and a matinee show on December 22 at 2:00. Tickets are $15 for adults and $12 for students and can be found on the CAST website. Tickets sell fast so hurry and get yours soon!