Operation Christmas Child: helping those in need
Hang on for a minute...we're trying to find some more stories you might like.
This year, once again, the Helping Hands Club and Fellowship of Christian Athletes helped to pack boxes for Operation Christmas Child. What is Operation Christmas Child? According to Mrs. Zimmerman, Operation Christmas Child is a Samaritan's Purse ministry that uses gift-filled shoeboxes to spread love in a tangible way to children in need around the world.
Operation Christmas Child is a worldwide operation dedicated to giving children a good Christmas they might not otherwise have. Since 1993, the project has collected and delivered more than 135 million gift-filled shoeboxes to children in more than 150 countries and territories.
Where does it take place? Mrs. Zimmerman says all over the world! Shoebox gifts are collected in the U.S., Australia, Finland, Germany, Austria, Switzerland, Japan, New Zealand, Canada, Spain, and the U.K. Locally, though, we collect and fill shoeboxes here at the CHS and then take them to our local drop-off center: The First Baptist Church in Curwensville.
In order to pack a shoebox, you must go to the official list on www.samaritanspurse.org. According to www.samaritanspurse.org, to begin packing a box, one should "Start with a quality 'wow' item such as a stuffed animal, soccer ball with pump, or clothing outfit that will capture the child's attention the instant he or she opens the box."
But, there are some items that are prohibited. According to www.samaritanspurse.org, some items may be too high risk to put into a box: "Candy; toothpaste; gum; used or damaged items; war-related items such as toy guns, knives, or military figures; chocolate or food; seeds; fruit rolls or other fruit snacks; drink mixes (powdered or liquid); liquids or lotions; medications or vitamins; breakable items such as snow globes or glass containers; aerosol cans."
The Operation Christmas Child collection took place throughout the world November 12-19. Mrs. Zimmerman says we had a great turnout at CAJSHS: we packed 35 boxes! As for the results of Operation Christmas Child, Mrs. Zimmerman says: "We are tracking our boxes this year to see where they end up – we will keep you posted."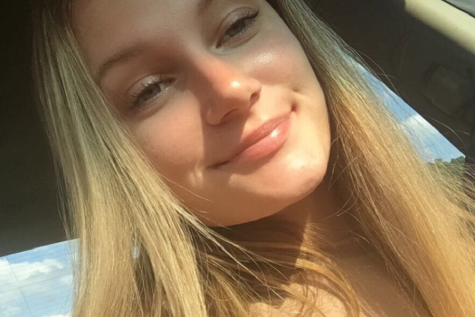 Alyssa G. Twigg, Staff Writer
My name is Alyssa, also known as Lys. I am a currently a Junior at Clearfield Area Junior-Senior High School. In my free time, you'll find me lifeguarding...