Mamma Mia! Here We Go Again is huge hit sequel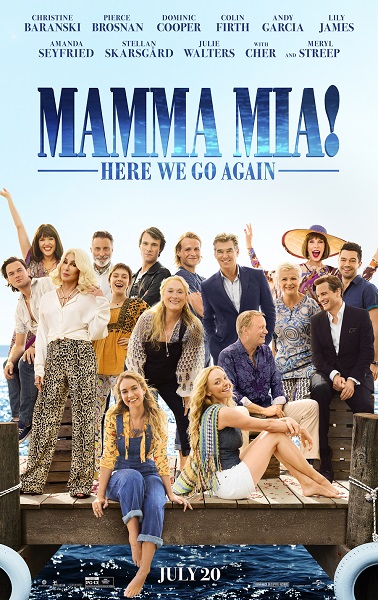 In 2008, the hit musical movie Mamma Mia came out, following the Broadway musical. The movie has been an iconic one for many years, with music to make anyone dance. This past year in 2018, the movie finally got a sequel: Mamma Mia! Here We Go Again. Many fans of the first movie were excited to finally see their favorite characters together again. The movie has recently come out on DVD and can be even found sold along with the first movie, and is personally one of my all-time favorite movies.
The movie follows two stories: The story of Sophie Sheridan, pregnant in the same place as her mother, ten years after the first movie as she renovates and re-opens her mother's hotel on the island of Kalokari, and the flashback story of young Donna Sheridan as she meets Sophie's three fathers, Harry, Bill, and Sam, and finds her way to Kalokari.
Luckily, for fans of the first movie, this movie still contains many upbeat and fun songs from ABBA. The movie features the return of iconic songs like Mamma Mia and Dancing Queen, as well as new songs like Angel Eyes. Each song is unique and amazing in its own way and has a place in moving the story along.
Of course, many of the iconic actors from the first movie have returned to play the well-known characters. Meryl Streep, Amanda Seyfried, Christine Baranski, Julie Walters, Pierce Brosnan, Stellan Skarsgard, Colin Firth, and Dominic Cooper all returned to make the sequel just as amazing as the first. As there are many flashbacks, a new set of cast members were required to fill the roles of younger versions of the characters. Those cast members include Lily James as young Donna, Jessica Keenan Wynn and Alexa Davies as young Tanya and Rosie, and Hugh Skinner, Josh Dylan, and Jeremy Irvine as young Harry, Bill, and Sam. It also features an appearance from the iconic singer Cher.
A lot of people are skeptical to watch sequels of movies, especially ones as good and iconic as Mamma Mia, but in my opinion, this sequel has not fallen short of the original. It follows a unique storyline with the same characters, and still has amazing singers and songs. I love how they decided to turn it into a sequel and a prequel all in one movie, and pulled it off very well. Overall, it's an entertaining movie that will leave you laughing, crying, singing, and dancing your heart out.