The Clearfield Swim Team impresses all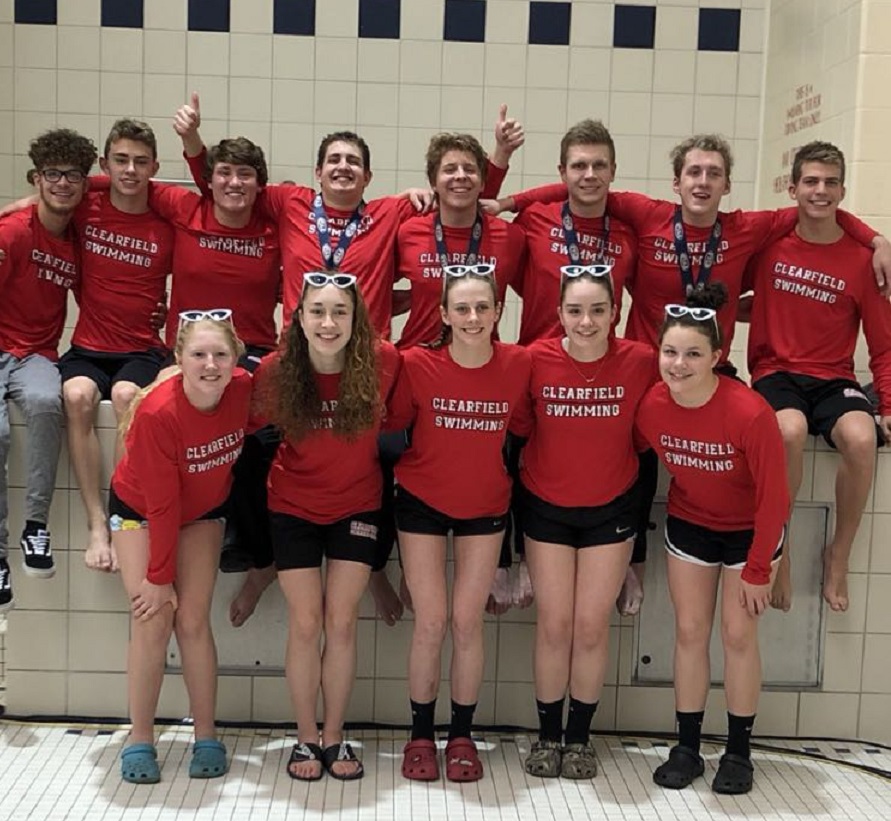 The Clearfield Bison Swim Team had yet another amazing season this year. The swim team is the only sport in the history of the school to never have a losing season.
The boys team had an incredible season with a winning record of 12-0 for yet another undefeated season for the boys' team. There were many members of the boys' team that won their event at districts which qualified them for the PIAA State Championship meet at Bucknell.
The members of the boy's team that qualified for the state meet included Isaac Swanson, Elliot Thorp, Cody Shaw, Luke Mikesell, Noah Jordan, Leif Hoffman, Parker Marshall, and Justin Maines.
There were also three relays that qualified on the boys' team. At the state meet, the 200 Medley Relay placed third, comprised of Isaac Swanson, Noah Jordan, Luke Mikesell, and Elliot Thorp, the 200 Free Relay placed thirteenth, comprised of Elliot Thorp, Justin Maines, Parker Marshall, and Leif Hoffman, and the 400 Free Relay placed fourth, comprised of Isaac Swanson, Leif Hoffman, Elliot Thorp, and Luke Mikesell.
Luke Mikesell also won the 200 Free with a new PIAA state record. This is his second state title, winning the 500 free last year. Mikesell also placed second in the 500 Free, but also broke the state record as well. Mikesell was able to accomplish his goals by training harder and faster than usual. When asked how he felt his swims were, Mikesell states: "I am proud of my swims at states, I enjoy racing at the state level. Win or lose it's all about having fun, in my opinion."
As of April 8, Mikesell is taking a well-deserved three-week break before training begins again for next season. When asked what else he would like to share with our readers, Mikesell says: "Find something you enjoy and keep chasing after it."
The boys' team was able to place fifth out of 55 at the state meet, which is an incredible accomplishment.
The Girls' team had a wonderful season with a winning record of 10-2. There were four girls that qualified for the state meet in Bucknell, as well.
The members that qualified included Makeeli Redden, Abby LaBorde, Raegan Mikesell, and Karli Beitz. Their relay was able to qualify back for finals, an impressive accomplishment.