Gov. Wolf shares Restore PA Program on high school visit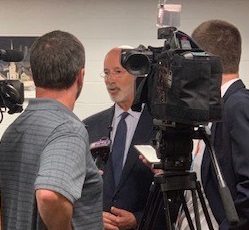 On Wednesday, May 29, the Clearfield Area Junior-Senior High School had a very exciting visitor. Pennsylvania State Governor Tom Wolf made a stop at CAJSHS hoping to gain feedback on his recent proposition, the Restore Pennsylvania Program. Bringing along a publicity crew and a security detail, the visitation was highly anticipated.
The Restore Pennsylvania Program is Governor Wolf's answer to a long-standing problem in Pennsylvania. He says that the most important part to success is that all people are provided equal opportunity, to which he voices that many people in our state are not given the fair chance at success.
The current proposal of the Restore Pennsylvania Program is to provide people across the state with the same resources, such as universal broadband and safer environments. Mr. Terry Struble, District Superintendent, said that the district has been able to provide students with many resources, such as the one-to-one laptop program, but it is necessary for the State to push it one step further.
Governor Wolf is ready to take the next step in helping all people and students thrive. He says he has strong hope for the Restore Pennsylvania Program and enabling all people to gain access to whatever resources they need to be successful. He also clarifies that funding such a program should not come straight from the pockets of citizens.
His current proposal for funding is to create a severance tax on natural gas companies in addition to the current initial fees. He says that Pennsylvania is the only natural gas producing state that does not charge severance tax. Governor Wolf submits that the people of Pennsylvania must no longer pay for other states' programs when we do not have a successful one of our own.
People around the state are living behind the times because they are not provided the same amount of broadband access as their counterparts. Governor Wolf's visit was to aid him in gaining insight on just how much these discrepancies can affect citizens, including students.
Students shared their struggles with Governor Wolf and called to his attention that the school has taken the initiative to improve technology, but other initiatives must be taken by the state. With life evolving around us, it is imperative that everyone can achieve the same without struggling to do so. Student Madilyn Domico spoke and shared how important it is for students to get internet access no matter where they live as the school steps into a world of online assignments and drop-boxes.
The Clearfield Area Junior-Senior High School hosted many important members of the community, who were welcomed to hear what the Restore Pennsylvania Program was all about. The Restore Pennsylvania Program is seeking a stronger current of support, but no other plan has been proposed that would solve the same issues.