Volleyball team welcomes returning coach
The Clearfield Lady Bison volleyball team is used to switching coaches. In the past four years, the team has had three different coaches. This 2019 season, they brought in a returning coach, Coach Kelly Kaskan. Throughout Kaskan's coaching career, she coached junior high volleyball in Blairsville and had two winning seasons there, coached five years in Clearfield as head coach, three years with Sandy Bailor in Curwensville, and finished second in the districts her last year coaching for Clearfield. Together, Coach Kaskan and Coach Sandy Bailor hope to make some positive changes to the team.
When asked her thoughts on taking on the job, Kaskan stated, "I wandered how I would juggle family life with coaching life." However, she seems to have those thoughts sorted out, as she continues to show up to every practice and game ready to coach the determined team. "My goals for the team are to continue to improve, to keep spirits high, and, win or lose, get the girls to love the game," stated Kaskan. The team has worked to get better every day, and though the scores don't show it, the team improves more and more each game.
Upon takingon the job, Kaskan knew she had some things to change. "I changed the rotation, I'm hoping to change the school's attitude towards volleyball in general, and I would like to increase the commitment from the players," she stated.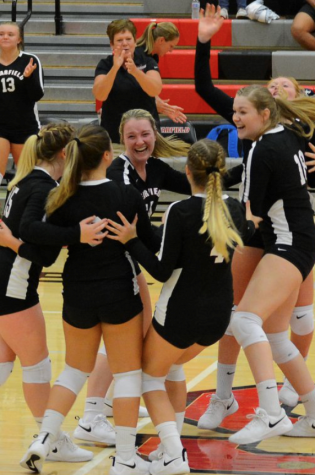 Talking with the team, I had the chance to hear what they had to say about the changes. Morgan Cheek, who is a Junior at Clearfield Area High School and a returning varsity letterman, claims that she has noticed a difference in the team. "I have definitely noticed a difference in the team. We work harder this year compared to previous years, and we continue to get better each year." Cheek stated: "Attitudes are still a big problem, but Coach kaskan seems to be working with them. It takes time to adapt to the changes, and I feel we are still working out the problems."
The team continues to work hard in preparation for the second half of the season. As the season goes on, they continue to look forward to each game, as it is a chance to prove what they have been working so hard for, and they can use every game as a learning experience.
In addition, the team would like to invite all who are able to the "Think Pink" night, which will benefit Janette Peacock, a classroom assistant at Clearfield Area High School, who is battling breast cancer and is facing many weeks of chemotherapy. The game is on Thursday, Oct. 10, and they would love your support in the Two Schools One Cause volleyball game. A bake sale and basket raffle will be taking place before and after the game.
To see the schedule for the rest of the season, visit the Lady Bison Sports webpage