Clearfield celebrates football senior night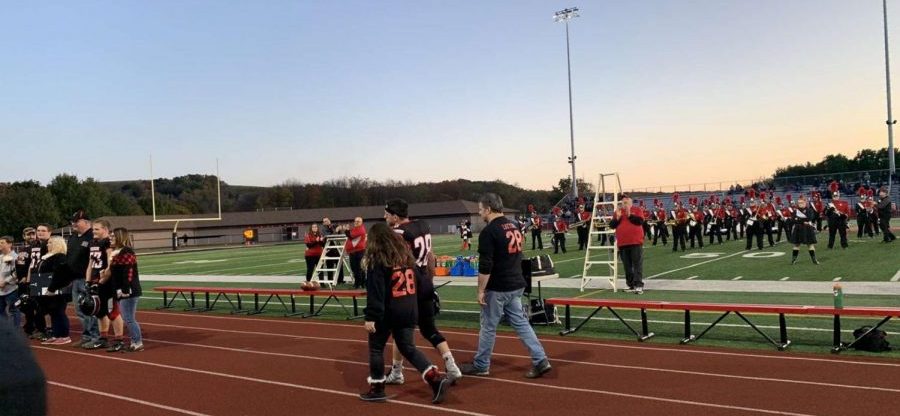 Clearfield Area Junior-Senior High School recently had its football Senior Night. A total of nine football seniors walked through and were recognized. The nine football seniors this year are Brett Zattoni, Quentin Bloom, Ian Heitsenrether, Allan Myers, Trevor Wain, Zach Hess, Alex Owens, Seth Miller, and Garrett Becker. Three of the captains were interviewed, and each of them had different opinions on how the overall season went along with how they felt about it coming to an end.
"I'm going to miss the Friday night games underneath the lights the most. There's nothing better than going into a fight with your whole town on your back," claimed Trevor Wain when he was asked what he would miss most about Senior year. Trevor also gave some advice for the upcoming Seniors for next year. He mentions to give everything they have into their final year and not hold back because once it's all over, all you have is the memories.
After asking Quentin Bloom, another captain on the football team, which game he was most nervous about this season, he said, "Bellefonte, but I wasn't really nervous, more excited than anything." This season, he was surprised about some big plays made by some unexpected people.
The last captain interviewed was Ian Heitsenrether. His response to being asked what the proudest moment he had experienced this season was, "The proudest moment of this season for me personally was being named as a team captain for the season out of the nine seniors this year." He goes on to explain how he feels about this season coming to an end by saying how grateful he is for being able to make friends and long-lasting memories that he can carry with him forever. Although he feels this, he also explains how it's hard to come to the realization that it is his last year and he only has a few weeks to make it a season to remember.
The 2019-2020 football season has definitely been one to remember, and many of the seniors have stressed how much they are going to miss it.