2019-2020 Basketball season approaching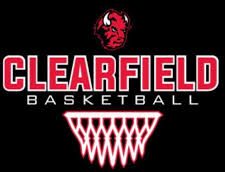 As winter is on its way, so is basketball season. The 2019-2020 boys' basketball team is ready to start the new season. This year's seniors are: Cade Walker, Andrew Lopez, Harrison Peacock, Kandyn Hudson and Jeremy O'Dell. All the seniors on the team are this year's team captains. The first game of the season is Friday, December 6, at Curwensville High School. Their head coach for the season is Coach Glunt who has been coaching Clearfield boy basketball for years.
Coach Glunt said: "My favorite thing about coaching this group is the relationships that I have been able to build with them.  We spend a lot of time together in the off season traveling to games and I get to know them on a personal level.  They are a great group of kids and are a lot of fun to work with."
This year players will compete for another winning season, reach the goal of league and district championships, and set personal goals and reach them throughout the season. The players have worked hard in the off season to come back and give it their all for the season. They are all ready to start playing together again like they did this past summer.
Senior Harrison Peacock said: "I'm going to miss the atmosphere, it's such a great time at practices and games! The coaching staff always makes us put I work but have fun at the same time!"
Find the 2019-2020 Boys Basketball schedule here.