Students win VFW essay contest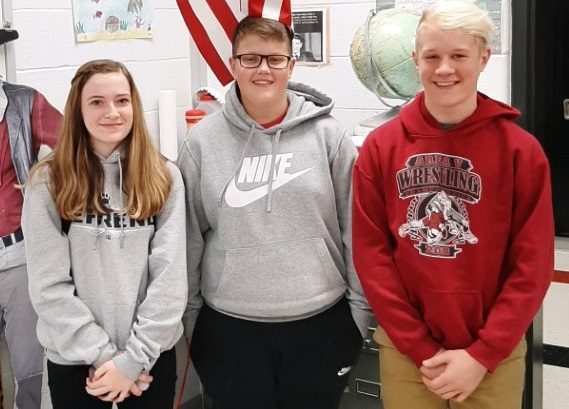 Each year Mr. Shimmel's students participate in the VFW essay contest. The students have special time in class to conduct this essay to submit in the contest.  There is a theme for the students to write about, and this year it was "What Makes America Great." To enter the contest, there are many different grade levels that can participate. This year's essays were due at the end of October.
Students who participate in this contest benefit them in many ways, says Mr. Shimmel. Some of the benefits are essay formulating and writing skills utilization,  students learn what the VFW organization does, the winners get the opportunity to meet special people at the awards dinner, and they learn how important student participation is to the people that organize the dinner in their honor.
Mr. Shimmel adds: "The contest is important because with all the fake news in society today, our young people aren't being exposed to all the great things our country has to offer. The media likes to focus on the negatives because unfortunately, many more people are programmed to respond emotionally to that instead of positives. This contest is just one small way that hopefully we can be more responsive to positives in our society and our lives. The local VFW auxiliary volunteers are definitely some of the most positive people you will meet and it's a great opportunity to our students to have a chance to get to know them."
There are three winners picked, and the VFW rewards the winners with cash prizes. This year the essay winners were all eighth graders, Cody Taylor, Arika Jones, and Carter Chamberlain. Arika says that she liked that she was able to express how she feels about America. When asked what is something that she gained from the contest, she said: "I gained the opportunity to learn more about America and what makes it great."