Laurel Eye Clinic recognizes students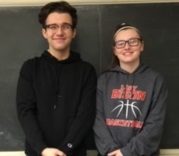 The Laurel Eye Clinic has started to recognize students in our school in addition to the student of the months that the school picks. The students are picked monthly when we select our students of the month. They are picked by teachers and guidance counselors based on performance in class, participation, helpfulness, attendance, and academic achievement, says Mrs. Wittie. Only the seniors may be selected for this recognition. McLain Alt and Cruz Wright are the two winners so far.
The Eye Clinic does this for the students to give back to the community and to recognize outstanding students. Mrs. Wittie says, sixteen schools participate in this program. The winners receive a certificate, a student vision t-shirt, they are recognized in the newspaper, and they are entered in a drawing to earn one of the five $500 awards to go towards their future endeavors. "The Clearfield Area Junior-Senior High School is excited to be a part of the new program and we are thankful to the Laurel Eye Clinic for caring about the students and our community," says Mrs. Wittie.