Female wrestler joins Bison team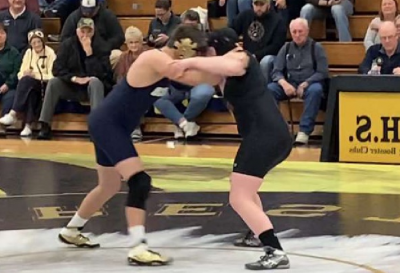 Sarah Margarita is a freshman at Clearfield Junior-Senior High School and the first female wrestler the school has seen in a few years. This is her first season and she is planning on pushing herself to do better and go harder throughout her high school years.
Although Margarita lost her first match at Bald Eagle,  she hopes to work harder to improve her skills and win her future matches. Her weight class is 190 pounds.
Not only is she in this program she is also involved in the Bison Band and keeps her grades up.  Some people might think that a female wrestler would be treated differently and not feel like they fit in. However, Margarita says that she is treated equally and that her other teammates make her feel welcome with the group of wrestlers.
There are a few things that she has to do differently than the other wrestlers, like what she has to wear. That's just as simple as wearing a shirt under the uniform. Other than some small things she has to change Margarita puts in the same amount of time and maybe even more than other wrestlers. Margarita would like share: "If there is something you really want to do, just go for it."
The wrestling season has just begun and we're looking forward to an out standing year. For more information you can always go and look at the Bison schedule.