Cats remake gets mixed reviews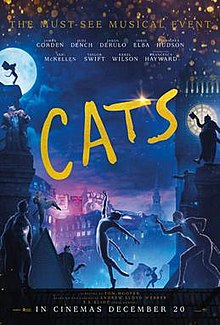 I'm sure by now all of you have heard of the 2019 CGI remake of the Broadway classic Cats the musical. Cats on Broadway was known for its amazing costumes, soundtracks, light atmospheres, and makeup. Now we all also know how the movie adaptation flopped. Critics hated the realistic CGI Cats, but as a student who loves all things, Broadway, I've seen the original Cats many times and I love it. So, I was excited about the new movie, and to be honest I wasn't disappointed. 
Taking the CGI aside, when looking back at the movie I can say that it closely resembles the "plot" of the musical, the music was all there and in a cohesive way and the casting was phenomenal. The main character Victoria, played by Francesca Hayward was beautifully sung along with the other classic character. Taylor Swift's appearance, while brief, was well done and seamless, along with her added track to the album. The added song paired well and moved along the plot well enough to constitute the addition.  
Sir Ian Mckellen was a wonderful edition and the two comedic reliefs while not necessarily needed were well played by James Corden and Rebel Wilson. Personally, my favorite characters were played by Jennifer Hudson and Jason Derulo who embodied their characters with exuberance and grace.  
Now onto the matter of CGI, the movie was in its own way slightly terrifying, the original Broadway show was well done because of the makeup and clothing, and sadly not much of this was seen in Cats. It was bizarre how the cats seemingly wore shoes and hats and no other clothes, other than a handful of cats. Overall the movie was personally worth seeing, but I understand the critics and the haters on the movie, but if I have one lasting quote I would want it to be this, "Come on, it wasn't THAT bad."