Movie Review: "Star Wars: The Rise of Skywalker"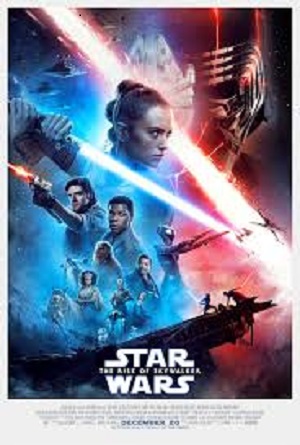 The newest Stars Wars movie in the series, titled "Star Wars: The Rise of Skywalker" was released on December 20, 2019. The film was directed and co-written by J. J. Abrams and was produced by Lucasfilm as well as Abrams' own production company Bad Robot Productions. The film is a bit longer than average, coming in at 142 minutes, or around two hours and 30 minutes.
The film follows the main characters from the last few movies, such as Rey BB-8, Kylo Ren/Ben Solo, Finn, and Poe. Some older characters are also featured in the film, such as Luke Skywalker, Leia Organa, Chewbacca, C-3PO, and R2-D2.
In my opinion, the film was good, but not the best it could've been. It definitely didn't beat some of the older Star Wars movies, but I still enjoyed it. I liked that the some of the early characters were included in with the mix of newer ones, because they are who I grew up watching, and what defined Star Wars for me.
One of the things that I liked about it was all of the plot twists and details that the watchers got to find out about the characters, because some of them definitely weren't expected. There was also a lot of action, which is something that I am a huge fan of. Something that I didn't like about the movie was that the story seemed to move along too fast, and some scenes felt a bit rushed to me. There is a lot to the movie, but it would've been better to have it go a little slower so I could process it a bit better. But all in all, the movie was great, and it was just as enjoyable to watch as the other Star Wars movies.