Reams places second at Skills competition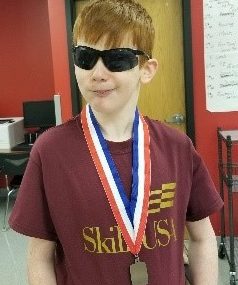 Cameron Reams, a junior at Clearfield Area Junior-Senior High School and a student at the CCCTC, competed in a Skills USA competition on January 21, 2020. A Skills USA competition is when high school, college and middle school students who are preparing for careers in trade, technical and skilled service occupations compete. The competition took place at Jaffa Mosque in Altoona. Cameron competed alone in this competition receiving second place. Cameron is planning on having a career in computer technology.
In the competition Cameron demonstrated the installation of several pieces of a computer and hardware. He recognized and installed a DVD drive, hard drive, and a RAM. He also hooked up a keyboard, mouse, and monitor. He powered the computer and turned it on when he was finished. During the competition Cameron used a divided tray to help keep things organized for him to install them.
Cameron said what he enjoyed most about the competition was "presenting to judges and that so many competitors from CCCTC placed. We were really well represented."