Q & A with new teacher Miss Liptak
Clearfield Area Junior Senior High school has had many new teachers join the staff for the 20-21 school year. One of these teachers is Miss Sara Liptak. She is a seventh-grade pre-algebra teacher and an eighth grade Algebra I teacher. She answered some questions below that help students get to know her a little better.
Q: Where did you go to college?
Miss Liptak: "I went to Indiana University of Pennsylvania. During my time there, I received two Bachelors degrees in education (Secondary Mathematics Education and Middle Level Mathematics Education)."
Q: What made you want to become a teacher?
Miss Liptak: "From a young age, I knew that I loved teaching math! I was pulled out of my 5th grade classroom on multiple occasions to help teach younger students how to add, subtract, multiply, and divide. As I grew into a young adult, that passion only increased."
Q: How long have you been teaching?
Miss Liptak: "This is my third year as an educator, but this is my first year teaching at Clearfield Area Junior Senior High School."
Q: What is your favorite part of being a teacher?
Miss Liptak: "I love when a student changes his or her mindset from 'I cannot do anything math related' to 'I might not be the best at math, but I can do it!' I love giving students the encouragement they need to increase their confidence in life."
Q: What is the most challenging part of being a teacher?
Miss Liptak: "The most challenging aspect of teaching for me is finding the time to do the 'behind the scenes' work that students usually do not see. For example, grading takes a lot of time because I like to write a lot of comments that will help my students notice their errors. Finding enough time to do everything I want to do for my classroom/ students etc. can be very challenging at times."
Q: What subject are you teaching?
Miss Liptak: "I teach 7th grade Pre-Algebra and 8th grade Algebra I."
Q: Have you taught anywhere else?
Miss Liptak: "Before coming to Clearfield, I taught at St. Francis School in Clearfield. I was the librarian and technology teacher for the whole school (Pre-K to 8th grade) and I taught 7th and 8th grade math."
Q: How are you adjusting to Clearfield Area Junior Senior Highschool?
Miss Liptak: "I am adjusting well. At times I feel overwhelmed with the workload, but I think any first year teacher feels that way!"
Q: Are you enjoying your time at Clearfield?
Miss Liptak: "I absolutely love my new job! Even on my first day, I felt very welcomed by not only the students but the faculty and staff. Everyone was so willing to help me and answer all my questions about the building or the different platforms we were told to use on our 'off' days."
Q: Is there anything else you would like our readers to know?
Miss Liptak: "In my free time, I like to be outside or baking in my kitchen. I love to kayak and hike by different bodies of water. I also have a German Shepherd named Thor that I am training to be a therapy dog."
About the Writer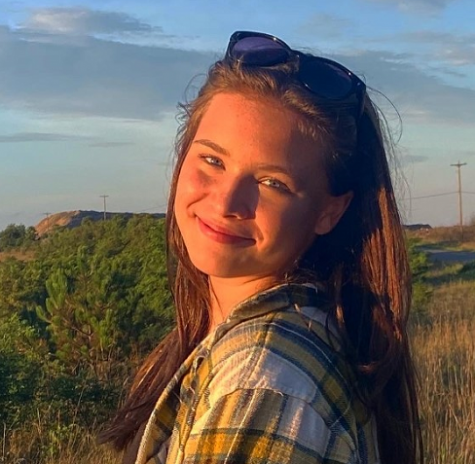 Elizabeth Ryan, Staff Writer
Hi, my name is Elizabeth Ryan and I am a junior at Clearfield Area Junior-Senior High School. I have been dancing for 13 years. I have also been on the...