Cross Country begins season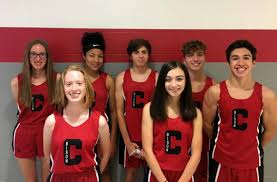 The cross country team has been training hard and preparing for their upcoming races for the 2020 season. The team has already competed in three meets this year, those being against PO, Tyrone/Central, Penns Valley/Bellefonte, and Hollidaysburg. This year, the team has a total of 11 runners with 6 of those seniors. The cross country team is coached by Eric Yingling, with assistant coach Carrie Wallace. Recently, Mr. Yingling answered some questions regarding the team, season, and some overall goals he has for the runners.
COVID-19 caused uncertainty in almost every sport throughout our school, so when asked if it was surprising to have a season since the uncertainty with the pandemic, Mr. Yingling replied: "It was surprising, and a little stressful.  There were so many decisions being made at a state and local level, and schools not too far from us were stopping their seasons.  I'm glad for what we've been able to do."
Also due to the pandemic, many of the runners on the team missed out on their 2020 Track and Field season, so there was the possibly of differences in the athletes. According to Mr. Yingling, because of the absence of that track season the runners seemed to have a lack of motivation, but as the season has gone on and races have begun the athletes are becoming more motivated.
Mr. Yingling said he has three goals for the season: "I want everyone to run a PR (personal record) on our course and an overall PR. Some have already accomplished this. I want to have at least three athletes become Mountain League All-Stars, and I want every runner to leave with a great in-race memory from our meets this year.  An example would be beating someone they've lost to before or beating someone across the line at the last second with fans cheering."
Mr. Yingling commented on one improvement the team should make before the end of the season. He said he hopes the runners compete with a little more confidence each week and to run faster because he knows they have an extra gear in them.
The cross country team competes in the Mountain League against five other teams and of those five teams the one who gives the most competition is Penns Valley. "Penn's Valley is hands-down the toughest competition.  They consistently have high numbers and extraordinary athletes.  They have the reigning boys and girls Mt. League MVPs, as well as the boy's state champion and runner-up," said Mr. Yingling.
Who is the most improved runner on the team this season? According to Mrs. Yingling, "There are a few names that come to mind here, but I would have to go with Alycia Edwards.  She worked so hard since March, and it is extremely evident.  Everyone on the team notices how much better she is, and it's great to see her having such an awesome season her senior year."
Lastly, the team is lacking in numbers and has been for the last couple years, and with the absence of the 2020 track season it was not possible to recruit new runners. The team is in need of runners for next season, as they are losing six seniors. So why should one join the cross country team? According to Mr. Yingling, "People should join cross country because it is a sport that requires discipline that is helpful in other aspects of life.  Cross country is also a sport where you control your own destiny: the more work you put in, the better you get.  That is not always the case in other sports.  Finally, anyone can benefit from running and training like we do.  Other coaches can always tell the difference in an athlete who competed in cross country. It's a great all-around sport."