Q&A with Mrs. Wolfel, new English teacher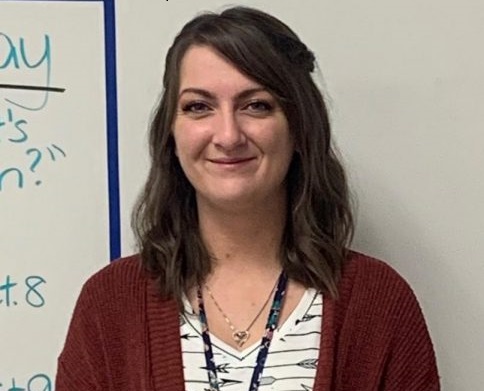 Many teachers come and go in schools everywhere. One teacher new to our school is Mrs. Wolfel who is in room 400. To introduce her to the student body, a Q&A was conducted. Continue reading to learn about new teacher Mrs. Wolfel.
Q: Where are you from?
 Mrs. Wolfel: "St. Marys."
Q: Do you have any previous connections with people here? 
Mrs. Wolfel: "I don't have specific connections to people, but I've always traveled to Clearfield for the fair. I used to play high school basketball as well, so I was familiar with the school district too."
Q: How long do you plan on being here? 
Mrs. Wolfel: "I plan on hopefully staying in Clearfield for a long time! I just bought a house with my husband and our dogs, so we are excited to be here!"
Q: Have you taught elsewhere? 
Mrs. Wolfel:  "For the last 5 years I have taught at a middle school in Culpeper, Virginia."
 Q: What do you teach and why? 
Mrs. Wolfel: "I teach English because I hope to show students that a passion for reading can open them up to a world of possibilities."
Q: Where did you graduate?
Mrs. Wolfel:  "I graduated in 2011 from St. Marys Area High School. I received my bachelor's degree in English from Indiana University of Pennsylvania in 2015. I also received my Master of Education in Curriculum and Instruction from the University of Virginia in 2018."
Q: What brought you here and do you like it?
Mrs. Wolfel:  "I was looking to move closer to home to be able to see my family more often. So far, I have loved living in the area."
Q: What is one positive and one negative thing about this school year? 
Mrs. Wolfel: "One positive thing I have experienced is meeting so many kind citizens of Clearfield. One negative is that I miss some of my friends from Culpeper, but I plan on visiting them so that will help!"
Q: How much experience do you have?
Mrs. Wolfel: "Five years of experience in teaching.  I have worked with Elementary, Middle, and High school students as well!"
Q: Are there any hobbies you would like to share?
Mrs. Wolfel: "I enjoy hiking and exploring the mountains with my husband and dogs.  I am also an avid reader."
Q: Any final details you would like the audience to know about you?  
Mrs. Wolfel: "Clearfield is a wonderful area and has a wonderful school district.  I love it here already and I have only been here since June!  The only thing missing is Taco Bell, and it would be perfect!"