Hot Chocolate Cookies are just in time for cold weather
With the cold weather upon us and Christmas time quickly coming up, here is a recipe to satisfy any taste buds. You can make these for family, friends, or just yourself. With some simple ingredients you can find in your cupboard and just a few steps, this is a perfect recipe to fill up some time.
Hot Chocolate Cookie Recipe
Prep Time: 10 minutes
Cook Time: 20 minutes
Chill Time: 30 minutes
Servings: 36 Cookies
INGREDIENTS
1 cup butter (softened)
1 cup sugar
2/3 cup brown sugar
2 eggs
1 teaspoon vanilla
3 ¼ cup flour
4 packages (3/4 cup) hot cocoa mix
1 teaspoon salt
1 teaspoon baking soda
2 teaspoons baking powder
1 cup chocolate chips
1 cup Mallow Bits (mini marshmallows do not work the same but can still be used)
INSTRUCTIONS
Beat butter and sugars in a large bowl with standing mixer until light and fluffy, approximately 2-3 minutes. Add eggs and vanilla; mix well
In a separate bowl, combine dry ingredients. Gradually mix dry ingredients into butter mixture until well blended, but do not over mix. Stir in chocolate chips and Mallow Bits. Cover and chill for at least 30 minutes, up to 2 hours.
When ready to bake, preheat oven to 350 degrees. Drop 2 tablespoons dough, 2 inches apart, onto a baking sheet lined with parchment paper. Bake 9 to 11 minutes or until edges are lightly browned. Cool on baking sheets for 5 minutes; move the cookies to a cooling rack. Serve once cooled.
MY SUGGESTIONS AND OPINIONS
Do not use sugar-free cocoa because it does not go with this recipe. The recipe says to use special marshmallows, but that is hard to find in our stores. Instead, you can use normal marshmallows and add them in while the cookie is still hot.
I enjoyed making these cookies and they turned out well. I recommend them to anyone who wants to try it out. Kendyhl Luzier said, "The cookies were well baked and unique." Lindsay Hartline inputs, "The cookie has the taste of hot chocolate but the crunch of a well-cooked cookie. It has very good flavor."
Source: Johnstone, Christi. "Hot Chocolate Cookies • Love From The Oven." Love From The Oven, 14 Oct. 2020, www.lovefromtheoven.com/hot-chocolate-cookies/.
About the Writer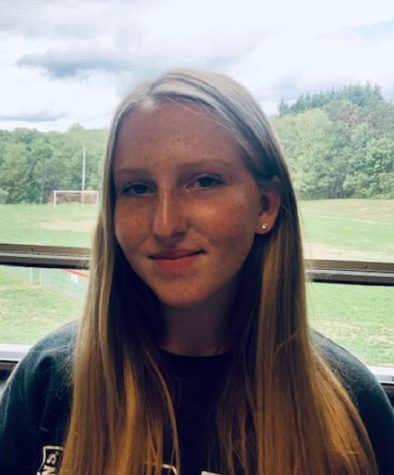 Morgan Cheek, Staff Writer
My name is Morgan Cheek, and I am a senior this year. I enjoy playing softball and volleyball. During my free time, I like to hang out with my friends...