2020 Christmas decorating trends light up the season
Yet another year of Christmas hits and this presents itself with another year of opportunity for Christmas decorations. With 2020 involving many stay at home ideals, there is more time to put into the decorations then during a normal holiday year. Some trends are local and others on a wider scale. What are some strong trends?
There are always the typical trends that can be guaranteed to be seen every year. There are the colored flashing lights that draw the attention of the eye. Another approach is with a more white, simplistic light show. The white lights tend to cause the snow to beautifully reflect back causing a light show for the eyes. The living and plastic trees being white, green, fill the warm, cozy homes of almost every house in America. Many trees are covered in sentimental ornaments and tinsel with a small village underneath.
Next, there are the local decorations around Clearfield that are repetitive each year. There are the snowflake lights that show magnificently in the downtown area. Many people enjoy putting their animal-shaped lights, like deer, around their house to amaze the neighbors and community. People in the area also enjoy their blowup snowman and Santas that watch over the streets filled with snow. Then there is the classic Santa with Rudolf on the bypass looking down at the cars below. This year though, it looks like Witmer park received an upgrade. A massive joy sign with many other Christmas themed decorations surrounding it.
Finally, there are also some changing trends. This year many people began decorating earlier than most years. This is most likely due to the coronavirus and people trying to ease the mind of the many conflicts of 2020. Many people have begun favoring "modern" Christmas colors of silver and gold as opposed to the more typical green, red, as can be seen on lushhome.com, which offers many decorating ideas. Overall, even though 2020 has been a rough year, it would appear the people's Christmas spirit cannot be broken.
About the Contributor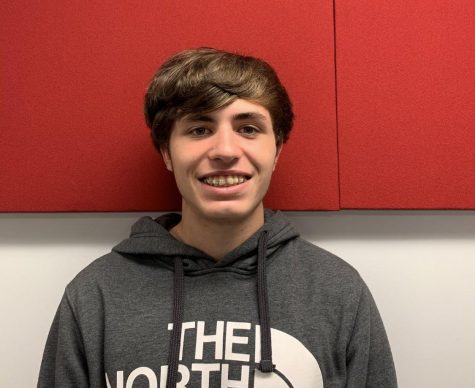 Benjamin Luzier, Staff Writer
Hello! I am Benjamin Chase Luzier! I am a senior at the Clearfield Area Junior-Senior Highschool and a writer on the stampede. I am a member of the cross...